Americans form formidable trio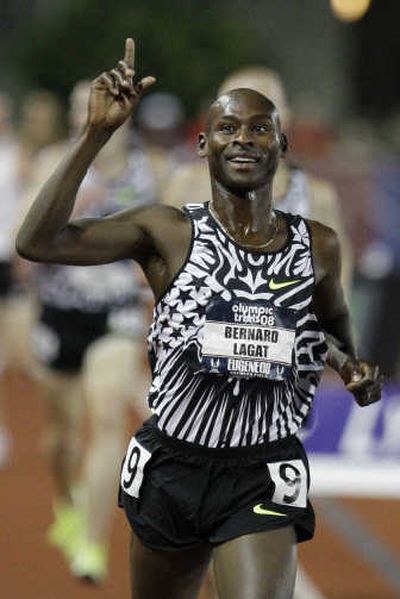 EUGENE, Ore. – They sat side-by-side in a banquet room at a downtown hotel, where the Eugene Rotary Club was serving lunch around the corner, and Bernard Lagat's 2-year-old son played and squealed in the back of the room
Fittingly, Lagat – flanked by Alan Webb and Lopez Lomong – sat in the middle of the threesome. He had earned the spot.
Lagat, who starred in college at Washington State, made his third Olympic team when he won the men's 5,000 meters at the U.S. trials, in 13:27.47 on Monday night. But next month's Beijing Games will be the 33-year-old's first Olympics as an American. He won the silver medal in the 1,500 at the 2004 Athens Games, and a bronze in the same event in 2000 in Sydney, competing for his native Kenya.
The purpose of Tuesday's gathering – on the first of two straight rest days for the athletes at the 10-day trials – was to preview the meet's premier middle-distance event: the men's 1,500 meters. Qualifying begins Thursday; the final will be contested Sunday.
The last race of the meet, it will also determine Team USA's final three Olympians for Beijing. An American hasn't won the Olympic gold medal in the event since 1908; the last U.S. runner to win any medal in the 1,500 was Jim Ryun, who won silver in 1968.
The three runners all know they're capable of another reunion this weekend on the infield podium at Hayward Field.
Webb, who has struggled this season but posted the fastest times in the world in 2007 in the 1,500 (3:30.54) and the mile (an American-record 3.46.91), arrived in Eugene on Monday night, just in time to see Lagat win the 5,000 and Lomong get edged out in a close and wild finish in the 800.
"I've had a lot of inspiration the last 12 hours," he said.
Webb, a native of Ann Arbor, Mich., attended the University of Michigan for one year (2001-02) before turning pro and returning to Virginia to be coached by his former high school mentor, Scott Raczko.
Webb beat Lagat for the U.S. outdoor 1,500 title last year. Webb continued running strong, setting lifetime bests, but he wasn't the same when he reached the world championships in Osaka, Japan.
As Lagat won both the 1,500 and 5,000 races, Webb struggled to eighth place in the 1,500 final in Osaka.
This season, Webb, citing overtraining, was 16th in a 5K road race in March and has competed on the track just twice. He was seventh in the mile (3:55.47) at the Prefontaine Classic last month.
Still, Webb, 25, returns to Eugene as the defending U.S. trials champion in the event.
"The primary thing is to get through this and get on the Olympic team," Webb said. "That's my main goal. It would be a huge honor to go back again. It's very rare in sports to be able to have second chances, and I hope to earn that second chance."
---