(Not) born in the USA
Influx of foreign-born Olympians prompts discussion of U.S. immigration policy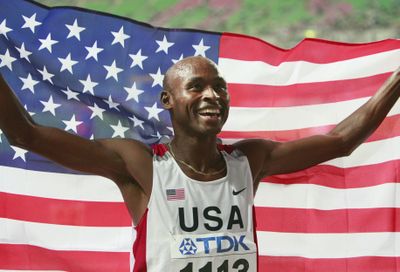 NEW YORK – As the U.S. struggles with immigration policy, Americans will get a chance next month to see their melting-pot nation through the prism of foreign-born athletes competing in USA uniforms at the Beijing Olympics.
There are at least 33 of them, compared to 27 at the 2004 Summer Games, according to the U.S. Olympic Committee, which didn't track the statistic before then. They include four Chinese-born table tennis players, a kayaker from Britain, Russian-born world champion gymnast Nastia Liukin and seven members of the track-and-field team.
For those seeking symbolism, it's hard to top the men's 1,500-meter squad – Kenya native Bernard Lagat; Lopez Lomong, one of the "lost boys" of Sudan's civil war who spent a decade in a refugee camp; and Leo Manzano, a Mexican laborer's son who moved to the U.S. when he was 4 but didn't gain citizenship until 2004.
"It's a magical time," said U.S. men's track coach, Bubba Thornton. "I'm glad that these young men found their way here. It may just remind us all of where we came from, and how hard the struggle may have been, and how big the dream was to be here."
Within their sport, the three 1,500-meter runners have been warmly embraced, as have other immigrants among the 596 U.S. Olympic athletes.
"I don't think of any of our foreign-born athletes as foreign," said Jill Geer, USA Track & Field's communications director. "In USATF, no one considers them anything but American, and I'm not saying that just because it's the right thing to say."
Beyond the realm of sports, the rancorous national debate over immigration has focused on foreigners here illegally and whether they should be offered some sort of pathway to citizenship.
Ira Mehlman of the Federation for American Immigration Reform, which favors stricter immigration enforcement, said foreign-born Olympians merit public support, but should be viewed as exceptions in a system fraught with flaws and unfairness.
"Not everybody coming into the U.S. is an Olympic athlete or a Nobel prize winner," Mehlman said. "Maybe this ought to be a wake-up call that we ought to design an immigration policy that seeks out exceptional people. Now, most of it is based on extended families. … you don't have a policy designed to bring in people who fit the needs of this country."
William Gheen, president of Americans for Legal Immigration, said the achievements of naturalized citizens like Lagat and Lomong should be celebrated, but not used as an argument for a more lenient immigration policy.
Gheen passed along a joke circulating on the Internet that alludes to illegal Mexico-to-U.S. border-crossing – over fences, deserts and the Rio Grande. The gist of it: Mexico will do poorly in the Olympics "because all their best runners, jumpers and swimmers are in the United States."
"The American public is starting to sour on all immigration in reaction to rampant illegal immigration," Gheen said. "The danger is if people say, 'Look at these immigrants who are in the Olympics – therefore you should provide a path to citizenship for all the illegal immigrants in the country.' "
Randy Capps, a demographer with the nonpartisan Urban Institute who studies immigrant families, sees the U.S. as keeping pace with global competition in its acceptance of foreign-born athletes.
"Would you rather have them competing for someone else? Would you rather the U.S. be more competitive or less competitive?" he asked. "You wouldn't want an immigration policy that would exclude people who could potentially be the best at what they do."
Many other countries welcome foreign-born athletes to their own teams. Canada, with a relatively open immigration policy, expects to have more than 50 on its team in Beijing.
Generally, foreign countries don't complain when their citizens relocate to compete for the U.S. However, some Kenyan officials were displeased when they learned that Lagat, who attended Washington State University but won two Olympic medals for Kenya, had quietly gained U.S. citizenship in 2004 prior to the Athens Games.
Among fans, attitudes toward foreign-born athletes are complex. For example, one participant in an online discussion among track buffs on Run-Down.com bemoaned a 1,500-meter competition with no U.S.-born runners, yet admitted to hoping the Stars and Stripes would be raised after the final.
Indeed, the U.S. has scored relatively few major triumphs internationally in distance running in recent years, fueling a perception that the U.S. lacks its own world-class talent and that foreign-born runners are the best hope for Olympic medals in distance events.
Yet Jill Geer said native-born runners in the past two years have started to alter that outlook. The Olympic marathon trials were a particularly big confidence boost: in a field that included several African-born stars, all three qualifiers were American-born.
In any case, she said, U.S. track officials were happy to welcome world-class athletes immigrating from abroad, but did not actively recruit them.
"Obviously you've had people fleeing difficult circumstances and/or political persecution," Geer said. "These aren't people trying to find an easy way into the Olympic Games. These are families seeking a better life for themselves."
---