Sophisticated Bavarian vase carries simplistic value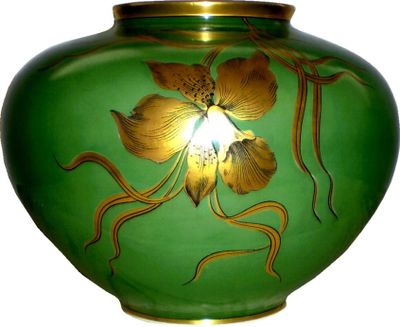 Dear Collector: Will you tell me about the maker of this vase and its approximate value? I have no idea how old it is. On the bottom is "Johann Seltmann, Vohenstrauss, Bavaria."
Seltmann began producing porcelain in 1901 at the Bavarian town of Vohenstrauss. The age of your bowl ranges from that early date to nearly 1945. I've seen four different color schemes applied to this vase's basic shape, with yours being the most sophisticated. Value is between $25 and $45.
Dear Collector: I have a Polaroid Model 95B (Speedliner) camera in perfect shape with original box and all the instruction sheets. Can you tell me if it's worth anything?
Retailing for $95 during its production run of 1957 to 1961, this instant camera today would be worth less than a third of its original asking price.
Dear Collector: What is the value of an 1863 Indian Head penny?
Your cent was one of several plans produced by James B. Longacre, with minor changes between designs. The year your penny was struck, it had more than 49 million buddies. Out of these millions there are thousands of surviving coins; which is why yours is worth between $7 and $9.
Dear Collector: We have a teapot that I got from my great aunt. She purchased it between 1930 and 1950. It is called Hollywood and is made by Hall. Could you tell us anything, and a price?
The fabrication of Hollywood, which is a body shape, began in 1920 by Hall, an Ohio manufacturer. Decorated in a number of styles, often a light green with touches of gold trim, your teapot has a liberal value of $75 assigned to it in one price guide, but value should fall closer to the $35 mark.
Dear Collector: Enclosed is a copy of the cover of a 1939 MacMillan edition of "Gone With the Wind." What is the estimated value of this book?
Your 391-page book containing photo illustrations of this great American movie is not an uncommon tome, although some on eBay may claim that distinction. In very good condition, value could reach $50.
Dear Collector: Could you help me with a date on this dachshund salt and pepper combo?
Made sometime in the 1950s, this elongated pup pulls apart in the middle (don't you hate that when it happens?) to reveal a salt at the head and a pepper at the tail … or is it the other way around? Your spicy doggie, made in Japan, is not pricey. At about $30, he's barely worth his salt!
Dear Collector: I own a new Jabba the Hutt belt buckle. I'm wondering what it's worth to a "Star Wars" collector?
New is relative! Did you mean new, as in just purchased? Or does the like-new buckle date from 1983, when Jabba made his first appearance in a "Star Wars" film? Either way, The Collector does not speak or read Huttees, Jabba's native language. So, excuse me for taking a pass on your question; I do fear Carbonite.
Prices quoted reflect retail values, and as with many antiques and collectibles these values vary. Readers are encouraged to submit questions with photos to The Collector, P.O. Box 229, West Boxford, MA 01885-0229 or ask online at:
www.askthecollector.com
. Please don't ask help in buying or selling your items. Sorry, photos cannot be returned and will become the property of The Collector.
---