Truly a 'Breakout' CD
Miley Cyrus' new release strikes chord with older audience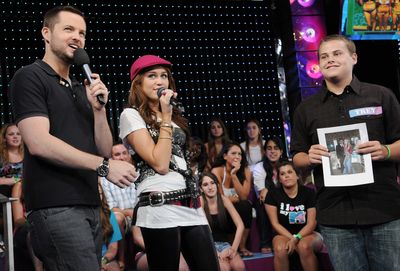 Hannah Montana may be the most potent phenomenon in Hollywood right now – bigger than Batman, bigger than Brangelina.
Yet these days, the girl who truly fascinates is not Hannah, but Miley Cyrus.
The 15-year-old face of the billion-dollar Disney franchise is no longer a star for just the 'tween set. She's intriguing not only those who turn the pages of Seventeen magazine, but also Us Weekly and Vanity Fair (more on that later).
Nowhere is that clearer than with Tuesday's release of Cyrus' latest album, "Breakout."
While she already has sold millions of albums, it's always been with the "Hannah Montana" moniker attached (2006's "Hannah Montana" and 2007's "Hannah Montana 2: Meet Miley Cyrus").
But there's no blond wig to be found on the cover of the new CD. Instead, there's a more mature sound that's already finding an older audience.
The first single, the rocker "7 Things," is No. 9 on Billboard's Hot 100 chart and marks her biggest success in translating her music beyond the Radio Disney audience.
"To be played on these radio stations is awesome, to be able to rock out to it in your car without planning it, without it being just a kids' channel," says Cyrus, who with her deep voice and self-assured manner seems a decade older.
"(I'm) making it a little more fun and edgy," she adds, starting to "step out of the 'Hannah Montana' thing – not in a way where I'm forgetting her completely, but as my fans grow up, me growing up too and kind of having my own person."
The "Hannah Montana thing" is familiar to millions of kids and adults alike. A movie is due out next year, the third season of the kitschy TV show starts filming in weeks, and the DVD of the blockbuster "Hannah Montana/Miley Cyrus: Best of Both Worlds" tour, which wrapped up earlier this year, is a lock to top the charts when it debuts later this summer.
But navigating her own celebrity path outside the confines of her famous character has proven to be difficult.
With former teen phenoms like Lindsay Lohan and Britney Spears providing epic examples of bad behavior, and the nude photo scandal involving Disney "High School Musical" star Vanessa Hudgens, tabloids have been eager to document a Miley implosion.
The first signs of potential concern came in the form of personal pictures that made their way onto the Internet, showing Cyrus dressed provocatively (though not obscenely) and setting the blogosphere abuzz.
A more serious firestorm erupted in April when Vanity Fair published a photo of her wrapped in a sheet, showing her bare back and shoulders.
That caused such outrage that no less than The New York Times chronicled the controversy, and Cyrus and her father, country star Billy Ray Cyrus, said they regretted how the pictures turned out. They also said she was never topless, as the photo by the esteemed Annie Leibovitz suggested.
But Cyrus has learned she doesn't even have to bare a shoulder to cause a fuss – as when she revealed in an interview earlier this month that "Sex and the City" was one of her favorite shows.
"It just scared people because there was the word 'sex' in the title, you know what I mean?" she says.
While allowing that she's made "mistakes," she also feels that the media has been unforgiving in its scrutiny at times – and a bit unwilling to see that she's not a little kid anymore.
"It's kind of hard to let someone that was so young when they started kind of grow up," reasons Cyrus, who was 13 when she debuted in the role. "You just have to realize that people make mistakes and that makes you almost a little more relatable."
Hollywood Records A&R executive Jon Lind, who worked with Cyrus on her last two CDs, says that he's seen a significant growth in her in just the past year.
"The difference between being a 14-year-old and a 15-year-old in any 'tween or teenager's life is an extraordinary amount – it's like dog years," says Lind.
Much of that growth is reflected on her new CD. While she co-wrote a majority of the songs on the "Meet Miley Cyrus" half of the previous album, on "Breakout," her songs have a weightier tone, discussing the environment, breakups and relationships.
"I hope I get respected a little bit more as a writer," Cyrus says. "I want them to respect me and know that I have a lot to say, I have a lot for the world to know and take away from what my life experiences have been."
She's even hoping to add a little bit more of an edge to "Hannah" next season.
"There's some things that I want to reinvent with her look, and not make it all sparkles and butterflies, you know? Some stars, and some black rock 'n' roll stuff," she says. "I did want it to grow up a little bit."
But lest anyone fear that she's growing up a bit too much, Cyrus is quick to point out that's she hasn't grown out of "Hannah."
"I probably won't tour again as a 'Hannah Montana' tour … I'm kind of past that stuff," she says.
"But I definitely wanna keep doing my show. I love doing (it) and I wouldn't wanna give it up quite yet."
---