News > Features
Diary of 'The Deadliest Catch'
Sun., May 18, 2008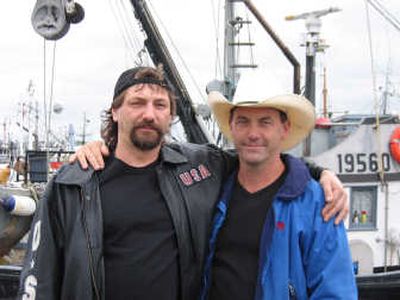 They call it "reality television," but the shows that make up that genre never tell the whole story.
Take "The Deadliest Catch," for instance. The popular Discovery Channel program pulls viewers out into the waters of the Bering Sea, documenting the lives of the crews that work crab-fishing boats in some of the worst weather conditions imaginable.
But even as breathtaking as the show often can be, it's nothing like the real thing.
That, at least, is what Andy Hillstrand says. Along with his older-by-one-year brother Johnathan, Hillstrand, 44, is owner and part-time captain of the boat Time Bandit. (Johnathan skippers it during king crab season, Andy during opilio crab season.)
And wherever he goes, Andy Hillstrand said during a recent phone interview, "So many fans come up and go, 'Tell us about this, tell us about that, is it really like that out there, what's it like?' "
So to answer those inquisitive fans – and to give, as Hillstrand put it, a "lot more in-depth, behind-the-scenes look than the Discovery Channel will ever give you" – the brothers decided to write a book.
Both will be at Auntie's Bookstore on Monday to read from "Time Bandit: Two Brothers, the Bering Sea and One of the World's Deadliest Jobs" (Ballantine Books, 226 pages, $25).
One question that journalists typically pose is the most obvious: Is the show real?
"One even asked me, 'When you going back to Hollywood?' " Hillstrand said. "And I thought, 'What the hell are you talking about?' "
For one thing, the Hillstrands don't live anywhere near the entertainment capital. Born in Homer, Alaska, Andy Hillstrand split time between Alaska and North Idaho until his 17th birthday, when he moved back to Alaska full time.
Both Hillstrand brothers have ties to the Inland Northwest. Johnathan graduated from Coeur d'Alene High School in 1980, Andy from a Christian school in Post Falls in 1981.
These days, Johnathan lives in the Northwest year-round, either in Alaska or Seattle, while Andy spends his summer training horses on his Indiana farm.
For another, Andy Hillstrand insists, the Discovery Channel cameras tone things down.
"If anything," he said, "they don't show it real enough because the waves never look as big."
But what the cameras do capture is the adrenaline rush that such a vocation provides, which is something that a hard-charging personality such as Hillstrand seeks in his off-season, too.
Following his youngest daughter's interest in horses, Hillstrand began several years ago to develop a love for the animals – even talking to a horse-whisperer and doing some occasional barrel racing.
So when his wife, an Indiana native, asked whether he wanted to move there during the summers, he said yes.
"We moved to Indiana and started building a business," Hillstrand said, "and like typical A-type personalities, we can't just have a nice little horse ranch where I get to have fun; I've gotta make it a full-fledged business.
"So now when I'm not busy working five or six months on the boat, I'm training horses and shoveling poop."
That work may take the place of fishing when those big waves finally force Hillstrand to retire.
"There's a 74-year-old Norwegian squarehead still doing it, so you can do it as long as you want to," he said. "But what the hell, my knees are already wearing out, so I'm thinking like age 50.
"You're just constantly getting ground down," Hillstrand added. "That's another thing they don't show you on the camera. Even in a 10-foot swell, you're constantly moving with the motion of the ocean, you know?
"I always tell people, 'I used to be 6-foot-6, now I'm 5-feet-11.' It just wears your ass down."
Local journalism is essential.
Give directly to The Spokesman-Review's Northwest Passages community forums series -- which helps to offset the costs of several reporter and editor positions at the newspaper -- by using the easy options below. Gifts processed in this system are not tax deductible, but are predominately used to help meet the local financial requirements needed to receive national matching-grant funds.
Subscribe now to get breaking news alerts in your email inbox
Get breaking news delivered to your inbox as it happens.
---