News > Features
For Mr. Little, the sky is rising
Mon., Sept. 1, 2008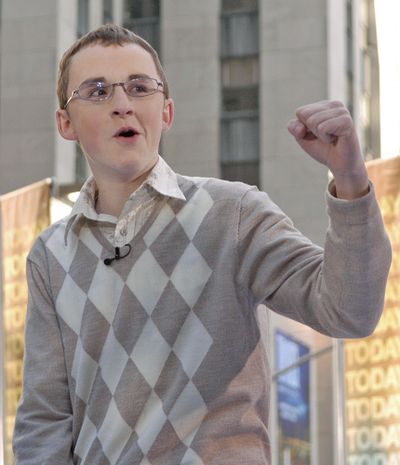 The last time most of us saw Kevin Covais, he was a pale, adorably scrawny 16-year-old running the gauntlet of Simon, Paula and Randy on Fox's "American Idol" in 2006.
White scalp shining through a close-cropped buzz, glasses perched on his nose, Covais crooned Josh Groban's "You Raise Me Up" well enough to make it to Hollywood, and America came to know him as Chicken Little – a nickname given him by castmate Paris Bennett.
What's Chicken Little been doing since then? Among other things, growing up.
At 19, he's on his own for the first time, sharing a pad with roommates in Los Angeles.
He makes his film debut in the new comedy "College," and it's no kiddie flick.
The R-rated movie focuses on three high school boys who experience a wild weekend at a college campus.
Covais' next project isn't exactly a Disney movie, either. In "Labor Pains," he plays an office intern opposite Lindsay Lohan, who stars as an unhappy worker faking a pregnancy to save her job.
"I'm going to be perfectly honest," Covais says. "The further away you get from doing something like 'Idol,' if you're not right back out there with a single or an acting opportunity, people tend to forget."
Covais certainly ran that risk. After "Idol," he turned down opportunities to cut a record, because the concepts seemed "unoriginal."
Instead, he took a semester of general classes at Hofstra University and turned to his other childhood dream – acting.
As it turned out, Deb Hagan, the director of "College," was a regular "Idol" watcher and had wanted Covais in her film from the moment she read the script.
"Whether he could act or not, I didn't know," she says. "But if we could capture the Chicken Little that I saw on 'American Idol,' I felt like we'd be in good shape."
Alongside castmates Drake Bell (from Nickelodeon's "Drake & Josh") and Andrew Caldwell (from the Owen Wilson comedy "Drillbit Taylor"), Covais had to shoulder his share of raunch.
Hagan taught the tee-totaler how to "walk drunk," forced him to lick the toes of Gary Owen (playing a domineering frat dude) and had him simulate a quickie sexual encounter.
"There were quite a few risque scenes," Covais acknowledges. "I've already told fans who have asked about the movie, 'If you're as young as I think you are, you should probably wait about five to seven years to see it.' "
Covais still has one more childhood dream to pursue. He's hoping that brief semester at Hofstra will lay the groundwork for a career in broadcast journalism – specifically, a television sportscaster.
"It was what I'd do as a kid – I'd turn the volume down and start calling the game myself," he says.
"Whether it's the Super Bowl or the World Series, I want to be the first guy who gets to sing the national anthem and then go upstairs and call the game."
The birthday bunch
Comedian-actress Lily Tomlin is 69. Singer Barry Gibb (the Bee Gees) is 62. Talk show host Dr. Phil McGraw is 58. Singer Gloria Estefan is 51. Singer-guitarist Grant Lee Phillips is 45. Actor Ricardo Antonio Chavira ("Desperate Housewives") is 37. Singer J.D. Fortune (INXS) is 35. Actor Scott Speedman ("Felicity") is 33.
Local journalism is essential.
Give directly to The Spokesman-Review's Northwest Passages community forums series -- which helps to offset the costs of several reporter and editor positions at the newspaper -- by using the easy options below. Gifts processed in this system are not tax deductible, but are predominately used to help meet the local financial requirements needed to receive national matching-grant funds.
Subscribe now to get breaking news alerts in your email inbox
Get breaking news delivered to your inbox as it happens.
---