News > Features
Is Elvis leaving another building?
Sat., Sept. 27, 2008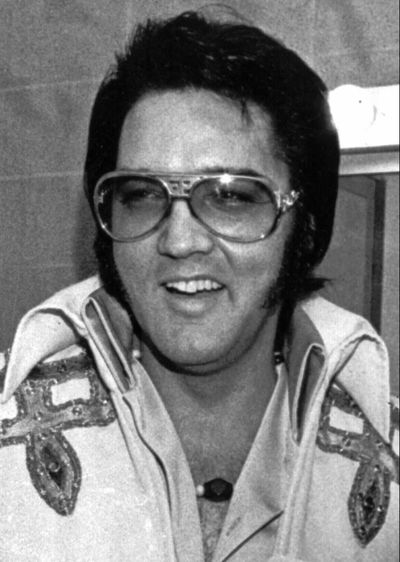 The Elvis Is Alive Museum has again changed hands.
The collection of Elvis Presley paraphernalia – including a drivable replica of his Cadillac, a gravestone and a full-size bronze casket with a wax Elvis head attached to a stuffed body – sold on eBay on Friday for $15,000.
The owner of the museum, which he moved from Missouri to Mississippi, says he cannot run it while he's away on National Guard duty for at least the next five months.
"It was a tremendously difficult decision, one that I thought about long and hard," says Andy Key. "I have pretty much spent seven days a week down there since I got the thing."
With help from family and friends, Key says that he has invested more than $40,000 to upgrade the museum.
The building isn't included in the sale, but a new owner may be able to continue his lease.
Key says the free museum has been successful, averaging 10 to 15 visitors a day. As its name suggests, its mission is to prove that Presley did not die in August 1977.
As for The King, he says, "He has not come by, or if he has, I sure didn't recognize him."
It shall be released early
Bob Dylan's new album will be available one week early as a free online stream on National Public Radio's Web site.
NPR Music will stream the entire two-CD "Tell Tale Signs" beginning at 12:01 a.m. EDT Tuesday. It will be available for listening at least until Oct. 7, when the album is officially released by Columbia Records.
It's the eighth volume of Dylan's rarities compilations, titled the "Bootleg Series."
Coming out, or not?
The gossip world went mad Tuesday when news came that Lindsay Lohan confirmed that she and DJ Samantha Ronson are lovers.
On the syndicated radio show "Loveline," asked how long she and Ronson had been "going out," Lohan replied: "A very long time."
But her publicist now says she wasn't making a confession about her sexuality, just affirming their close friendship.
Finally, Paris is earning
A well-known British artist is exhibiting collage portraits of President Bush and Paris Hilton he made out of porn magazine images.
Jonathan Yeo's image of Hilton was purchased ahead of Thursday's show opening, but posters of the portrait, titled "Paris, 2008," will be sold for $20 each at the gallery.
Yeo is offering Hilton proceeds from the poster sales as a "lighthearted" gesture because the hotel heiress says she didn't receive any money from her notorious 2004 sex video.
Quoteworthy
Tina Fey, to reporters backstage after winning three Emmy Awards at Sunday's ceremony: "If anyone's seen my purse, I left it under my seat."
The birthday bunch
Actress Jayne Meadows is 88. Director Arthur Penn is 86. Actor Wilford Brimley is 74. Producer Don Cornelius ("Soul Train") is 72. Musician Randy Bachman (Bachman-Turner Overdrive) is 65. Singer Meat Loaf is 57. Singer-actor-director Shaun Cassidy is 50. Actor Patrick Muldoon ("Melrose Place") is 40. Actress Gwyneth Paltrow is 36. Rapper Lil' Wayne is 26. Singer Avril Lavigne is 24.
Local journalism is essential.
Give directly to The Spokesman-Review's Northwest Passages community forums series -- which helps to offset the costs of several reporter and editor positions at the newspaper -- by using the easy options below. Gifts processed in this system are not tax deductible, but are predominately used to help meet the local financial requirements needed to receive national matching-grant funds.
Subscribe now to get breaking news alerts in your email inbox
Get breaking news delivered to your inbox as it happens.
---