News > Features
Helping new mothers manage work
Mon., April 6, 2009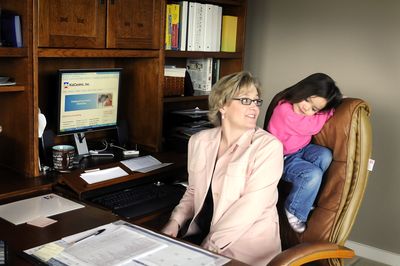 In the weeks or months after the birth of a child, going back to work can be one of the most stressful and difficult tasks for a parent. Many can't help but worry: Will my child be safe? Will she cry the whole time? Will I be OK without my baby?
For mothers who choose to breastfeed, the initial separation period becomes even more challenging. They must find a private, comfortable room within their office environment to express milk that they then have to refrigerate and perhaps later deliver to their baby's care provider.
"I'm not opposed to someone else caring for my child, but I just couldn't leave her all day long, five days a week," said Mindy Stewart, recalling how her employer changed her flex time schedule and forced her to be at the office full-time.
"I couldn't handle it – emotionally, physically and spiritually."
Stewart quit her job as a management analyst for a government agency in California. Weeks later, the agency hired her to do her old job as a consultant – which enabled her to work while staying at home with her 6-month-old daughter.
In the end, the agency spent more money on Stewart's consulting fees than they would have on her salary had her boss allowed her to continue working from home two days a week.
Shortly before moving to Spokane in 2002, Stewart decided to focus her energy on helping companies and organizations avoid similar mistakes.
She and a colleague started KidCentric Inc., which provides consulting and management services for businesses, government entities and nonprofits looking to address the child care needs of their employees or clients.
Stewart's goal is to show businesses how they can increase productivity and nurture company loyalty by becoming more family-friendly.
"Most businesses say, 'We're like a family' or 'We treat our employees like family,' but they're not comfortable with the idea of putting their money where their mouth is," said Stewart, who has three children, ages 8, 5 and 3.
Stewart and her business partner, Misty Rose of Livermore, Calif., want to help introduce the concept of corporate-sponsored child care, so that the receptionist at a business can afford the same kind of care for his or her children as the company's CEO.
This week, KidCentric opens a new program in Santa Rosa, Calif., that enables parents to access free child care when they have to go to the Superior Court of California in Sonoma County.
"The whole point of the program is to keep children out of the courtroom and minimize the trauma and stress they experience when their family is involved with the courts," Stewart said.
The children's waiting room in Sonoma County was made possible by the court, which charges a few extra dollars for filing fees, as well as a donation from a group of women lawyers.
In the Inland Northwest, a few companies such as Red Lion Hotels Corp. offer on-site childcare for employees.
Red Lion's Child Development Center is located at the company's corporate headquarters building in downtown Spokane and provides services for infants who are a month old up to preschool-age children.
At the Community Building in downtown Spokane, moms and dads who work for the various nonprofits and businesses inside the building have first priority when enrolling their kids at the Children's Center on the main floor.
And employees at Goodwill Industries of the Inland Northwest enjoy the benefit of having ABC Discovery Child Care Center located within their headquarters complex near downtown Spokane.
On-site childcare is still a foreign concept to many businesses, said Stewart, a native of Potlatch, Idaho, and graduate of the University of Idaho.
"A company doesn't have to have 600 employees to make it work," she said, pointing out how one of the first companies she worked with to create onsite child care was an organization of only 56 employees.
"It depends on the goal of the business," Stewart said. "Some want to stop the 'mommy brain-drain' and retain highly skilled employees. They also realize that it's the right thing to do. …
"You have to prove to businesses that it's worth their money in terms of morale, turnover and productivity. They get their money back in those kinds of things and save money in the long run."
Turnover often means loss for most companies. When a talented, hard-working employee leaves, the business loses an investment, experts say. To make matters worse, hiring and training someone new takes a significant amount of time, energy and expense.
That's why it pays in the long run to keep employees satisfied and to make it easier for them to continue doing their best work – even in tough economic times, Stewart said.
While the economic downturn has resulted in layoffs and reductions in pay and benefits, some companies – including Intel and Discovery Communications – have introduced new perks that include child-care centers, scholarships for employees' children, backup child care and adoption benefits to ease the burden on the employees who are left to shoulder the load, according to a recent Wall Street Journal piece.
"The answer lies in these companies' unusually long-term view and in the refreshing note of optimism that underlies it," wrote Work & Family columnist Sue Shellenbarger.
"Employers' staffs are already lean, the thinking goes. Eventually the economy will rebound. If companies lose more workers, they fear being too understaffed to cash in when that day comes."
Said Stewart: "Maybe I'm from the generation that thinks we can have it all, but why can't we go to work and know that our kids are safe? Why shouldn't we be able to continue our careers without sacrificing our emotional well-being?"
Stewart and her husband waited seven years before having children. When their eldest daughter was born in 2000, she returned to work after three months of maternity leave.
Until her boss required her to be at the office five days a week because of the agency's policies, Stewart worked from home for two days and in the office for the other three. The flex time allowed her to find balance; she was able to work and continue her career while also getting the chance to spend time with her daughter.
At the headquarters of the International Association of Plumbing and Mechanical Officials, which sought KidCentric's expertise, employees are able to eat lunch with their toddlers, Stewart said. Moms who work there can nurse their children during breaks.
The Ontario, Calif.-based organization has experienced little turnover since opening its child care facility in the summer of 2005, she said.
"Businesses need to look at their employees as part of a life cycle," said Stewart. "People are at different stages of that cycle at different times."
While child care has often been identified as a "mother's issue," Stewart said, people should also realize that the number of single fathers responsible for their kids has skyrocketed in recent years.
According to statistics from the U.S. Census Bureau, there were 2.5 million single dads in 2006 – up from 400,000 in 1970.
Stewart, who has a master's in social work/administration and planning from the University of Texas at Austin, spent more than 15 years working with children and families in the child welfare system and the juvenile justice system.
Her experience has helped her recognize the need to make early childhood education a priority – not only for parents, but also for businesses, government agencies and the entire community.
"If you can provide high quality child care to families who don't make enough money but need to work, you would help create lifelong learners and not have as many kids in probation," she said. "It's a benefit to society."
Virginia de Leon is a Spokane-based freelance writer. Reach her at
Virginia_de_leon@yahoo.com
. You can also comment on this story and other topics pertaining to parenting and families by checking out The Spokesman-Review's blog for parents, "Are We There Yet?" at
www.spokesman.com/
blogs/parents.
Local journalism is essential.
Give directly to The Spokesman-Review's Northwest Passages community forums series -- which helps to offset the costs of several reporter and editor positions at the newspaper -- by using the easy options below. Gifts processed in this system are not tax deductible, but are predominately used to help meet the local financial requirements needed to receive national matching-grant funds.
Subscribe to the Coronavirus newsletter
Get the day's latest Coronavirus news delivered to your inbox by subscribing to our newsletter.
---