News > Features
People: Stand back, throwback
Tue., April 14, 2009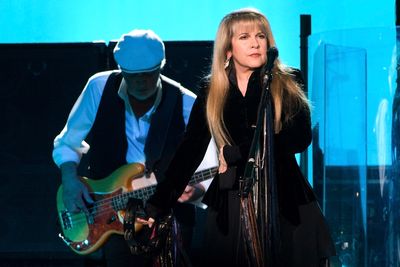 Friends who want to get in touch with Stevie Nicks know not to e-mail or text her, or call on a cell phone, because she won't respond.
It's not that she's being rude: Nicks doesn't own a computer or a cell phone. The 60-year-old rock legend, who's touring with Fleetwood Mac, is a proud technophobe.
"I believe that computers have taken over the world. I believe that they have in many ways ruined our children. I believe that kids used to love to go out and play," Nicks says in her famously smoky voice.
"I believe that social graces are gone because manners are gone because all people do is sit around and text. I think it's obnoxious."
Nicks does own an iPod, but she prefers to listen to music – which includes her new CD, "The Soundstage Sessions" (accompanied by a live DVD) – on a boombox.
Better yet, give her a cassette: "It sounds better and you'd be convinced."
Q: This is your first live project in 22 years. What took so long?
A: I don't really know exactly how that happened. … (my) tour was over, and I'm sitting in my house going, "I can't believe I'm sitting here again, and I didn't film this show." So I got on my phone and I called my managers, and I said, "Make some calls, because I need to film this show." I'm very, very proud of it. I'm almost glad that I waited this long to do it, because maybe that's what God wanted me to do.
Q: You say you hope this project is a blueprint for the next generation. Why do you think there's a lack of strong rock acts?
A: Because the music business is in terrible trouble. People are stealing our music. That's all there is to it. In the old days … they would help you to develop into the artist that they knew you were going to be. In the last 10 years, the record companies don't have the money to do that. The only thing I can say to people is, "Buy music, do not steal music." If you do, you won't have any new music later on.
Q: If you and I were having lunch, and I pulled out my cell phone …
A: I'm gonna put my hand on your hand and say, "Turn it off, for now. Just give me an hour, of you, I really want an hour of just you, and your heart. I don't want you talking to someone else while we're having lunch." … I don't want love and relationships to be lost, and I feel like that's happening.
Q: Have the nation's economic troubles inspired you musically?
A: Absolutely, I want to go home and write Bob Dylan songs, I want to go write radical, rebellious "let's try to make it better" songs. … I have never actually been very political before, and I'm starting to feel more political every day. So, pretty soon, governor.
The birthday bunch
Actor Bradford Dillman is 79. Country singer Loretta Lynn is 74. Actress Julie Christie is 69. Actor Brad Garrett is 49. Actor Anthony Michael Hall is 41. Actor Adrien Brody is 36. Actress Sarah Michelle Gellar is 32. Actress Abigail Breslin ("Little Miss Sunshine") is 13.
Local journalism is essential.
Give directly to The Spokesman-Review's Northwest Passages community forums series -- which helps to offset the costs of several reporter and editor positions at the newspaper -- by using the easy options below. Gifts processed in this system are not tax deductible, but are predominately used to help meet the local financial requirements needed to receive national matching-grant funds.
Subscribe to the Coronavirus newsletter
Get the day's latest Coronavirus news delivered to your inbox by subscribing to our newsletter.
---
Subscribe and log in to the Spokesman-Review to read and comment on this story