Sports
Thin on corners, Cougs make shift
Wed., April 15, 2009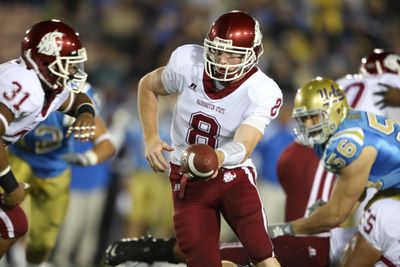 PULLMAN – On the football field, necessity is the father of innovation.
So, with spring practice winding down, the necessity of manning Washington State's depleted cornerback spots meant an innovative change had to be made.
Well, not all that innovative. Chima Nwachukwu, who started for WSU at cornerback as a freshman but has been playing safety since, moved back to the outside Tuesday, teaming with California transfer Brandon Jones on the No. 1 defensive unit.
"He's got to be on the field," co-defensive coordinator Jody Sears said of the move, which is probably temporary. "He's one of our best. He's made a ton of progress. I think it's very clear he's emerging as our leader and he's getting better as a football player."
With possible starters Devin Giles and Tyrone Justin missing spring drills for academic reasons – Giles not practicing at all and Justin skipping Tuesday workouts – and former starter Romeo Pellum suspended (see below), cornerback meetings could be held in a large closet.
So Nwachukwu, who has emerged as a vocal leader of the defense, made the change, with Tyree Toomer filling his safety spot.
"You get a better understanding of the defense once you play from different positions," Nwachukwu said. "You have different perspectives of everything. It's just helping me better understand the whole defense, but yeah, I'll be back there at safety come fall.
"It's a lot harder (to be heard). I tried to do that today from corner, but on one side of the field they're not listening to you."
•Quarterback Marshall Lobbestael took another step in his recovery, running a full-team drill for the first time this spring. It was a blitz drill, in which the linebackers and defensive line take two steps and stop while the receivers and defensive backs go full speed.
Not only did Lobbestael throw the ball effectively, he also pulled it down and took off through a gap in the line when the receivers were covered.
"Yeah, he did, didn't he?" coach Paul Wulff said of the less-than-full-speed scramble. "That's OK."
Wulff, battling a cold that gave his voice a deeper timbre throughout the day, said Lobbestael still is not allowed to participate in full-speed team drills.
•Pellum, who is on indefinite probation for an undisclosed violation of team rules, dug an even deeper hole with the coaching staff when Pullman police pulled him over on Illinois Street at 2 a.m. Saturday and arrested him for driving with a suspended license and not having a valid operator's license, according to the police report.
"Right now, he's suspended indefinitely, and he's not a part of any team activities whatsoever," Wulff said.
Senior receiver Michael Willis, who is sitting out spring workouts while working on academics, was pulled over about an hour later by campus police at the Kamiak Apartments and arrested for driving under the influence, according to the police report.
"The same is true there," Wulff said. "He's suspended. All of these guys will be suspended through the rest of the academic year."
Spring notes
There was some good news on the injury front, with Jones cleared to play without the club-like bandage he had been using on his right hand. "He did a nice job," Wulff said before joking, "I guess the negative to it is it allows him to hold a little bit more." … Defensive linemen Kevin Kooyman (back) and Josh Luapo (elbow) returned to full pads and participated in all drills. Receiver Jeffery Solomon, who underwent off-season back surgery, was out of the yellow, non-contact jersey for the first time this spring. … Defensive lineman Toby Turpin will miss the rest of the spring with a high ankle sprain suffered in Saturday's scrimmage, while middle linebacker Alex Hoffman-Ellis will sit for a while after a knee injury suffered on Saturday flared up Monday. … Both sides of the ball had reasons to celebrate during the end-of-practice scrimmage. Defensive back Daniel Simmons picked off a Kevin Lopina pass aimed toward Johnny Forzani – who cut outside when the ball was thrown inside – and returned it for a score, prompting a celebration that included every defensive player. A few minutes later, Marcus Richmond popped through a hole on the right side and rumbled down to the 8-yard-line and the offense celebrated. After Lopina threw a touchdown pass that led to another offensive celebration, Wulff called it a day. "We were doing the team live stuff at the end and again, our numbers are down so we just wanted to get some good quality reps in at the end," he said.
Local journalism is essential.
Give directly to The Spokesman-Review's Northwest Passages community forums series -- which helps to offset the costs of several reporter and editor positions at the newspaper -- by using the easy options below. Gifts processed in this system are not tax deductible, but are predominately used to help meet the local financial requirements needed to receive national matching-grant funds.
Subscribe to the sports newsletter
Get the day's top sports headlines and breaking news delivered to your inbox by subscribing here.
---
Subscribe and log in to the Spokesman-Review to read and comment on this story