Sports
Newcomer Hess brings soccer skills to North Central
Thu., April 16, 2009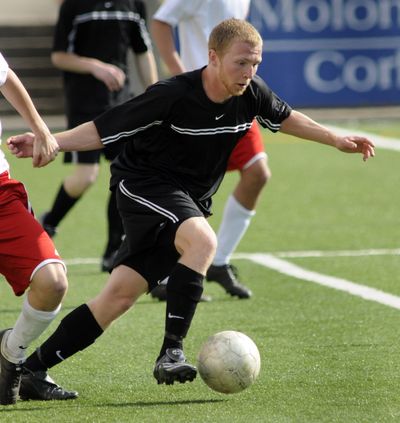 North Central boys soccer, winless the past two Greater Spokane League seasons, was seeking salvation. It came like a bolt from the blue.
Jake Hess, a military dependent whose soccer background is international in scope, arrived at NC almost by happenstance and has been a big reason why the Indians have a surprising 3-2 record.
"It's been a tough couple of years trying to build a program," third-year Indians coach Mica Lamb said. "We won our third game in a row (the other day) and a player said, 'I don't think I've won three in a row in my life.' It's so exciting and Jake's a huge reason why."
Nearly half of Hess' life has been spent on Okinawa, the location he credits for his soccer expertise. His dad, Mike, a Navy corpsman attached to the Marines, was nearing retirement, since put on hold. His mother Keirsten's grandparents had moved here a couple of years ago.
"Within a week we started getting newspaper clippings in the mail on things of interest to us," Keirsten said. "The schools are great and it has everything we enjoy – hiking, fishing, biking, all the 'ings.' "
Their move here in August, the family's 14th, became North Central's gain.
"Jake joined a team that hadn't won a game the last couple of years in the GSL and became a huge, huge impact," Lamb said. "His leadership and work ethic have been invaluable."
Like many coaches, Lamb was uncertain how much Hess would contribute when he learned of his new player. Lamb said Hess was so humble that he had no idea the extent of his new player's soccer background until he set foot on turf.
"Usually a senior coming out who's never played (here) before isn't a big impact," said Lamb. "He didn't lead on to the fact he'd played quite a bit."
Early practices were a revelation. Hess proved to be a non-stop dynamo, showing by his work ethic he meant business, Lamb said. His new teammates picked up on it.
"He hustles all over the field and I've never seen him get tired," Lamb said. "No one wanted to be outworked by the new kid."
Lamb has Hess playing center-midfield as dribbler, passer and playmaker which has benefited the team as a whole. It enabled him to move veteran Nathan Pelton to center back.
"Nathan can play anywhere on the field and we want the ball at his feet," Lamb said. "By allowing him to drop back, we're giving up fewer goals."
NC entered the week having beaten fellow 3A foes Shadle Park, Rogers and Mt. Spokane. The Indians play the fourth, East Valley, next week for top regional seeding.
The Hess family has lived all over in their military travels, including seven years during two tours by his dad in Okinawa.
"I was talking to my mom and we were reminiscing about it," Hess said. "It was actually in Okinawa the first time that I started soccer at age 5. Ice (and roller) hockey was my big thing."
He took up hockey in Lake Tahoe and still plays in Spokane.
His hustling style earned him a spot on his Okinawa high school varsity soccer team during the second tour as a freshman. He said he had expected to graduate from there and it was difficult to leave.
When he arrived in Spokane, he found a men's soccer league to play in at Plantes Ferry Park in Spokane Valley. Internet forays taught him little about the high school sport, but he discovered GSL success at NC has been rare this decade.
The Indians last had a winning season in 2006 and were winless the following two years.
Hess' Far East experiences, however, have proved invaluable this season. He began as an outside midfielder in Okinawa, remembering his coach just telling him to run. His job was to get to the ball and cross it and he said he had no foot skills.
Playing with military kids in a multicultural environment forced him to learn varying styles. A Department of Defense tournament featured teams from Japan, Korea, Hong Kong and Guam.
"Mexican players are fast and physical," Hess said. "The Japanese are quick and pass a lot. It gave me a lot of diversity and made it easier for me to adapt to whatever the situation is."
He said the American style here seems to be to dump the ball to forwards and work from there. He's lately noticed teams becoming more patient and controlling.
A Running Start student at Community Colleges of Spokane, Hess said his biggest adjustment moving here was getting to know his teammates and learning about NC soccer.
"I started meeting people at the first practice," he said. "I just went out there, worked hard and did what I could."
It is a strategy that served him well in Okinawa and has created new-found excitement in soccer at North Central.
Local journalism is essential.
Give directly to The Spokesman-Review's Northwest Passages community forums series -- which helps to offset the costs of several reporter and editor positions at the newspaper -- by using the easy options below. Gifts processed in this system are not tax deductible, but are predominately used to help meet the local financial requirements needed to receive national matching-grant funds.
Subscribe to the sports newsletter
Get the day's top sports headlines and breaking news delivered to your inbox by subscribing here.
---
Subscribe and log in to the Spokesman-Review to read and comment on this story