News > Features
Smiley serves up laughs at Hollywood's expense in latest novel
She headlines Get Lit! tonight
Thu., April 16, 2009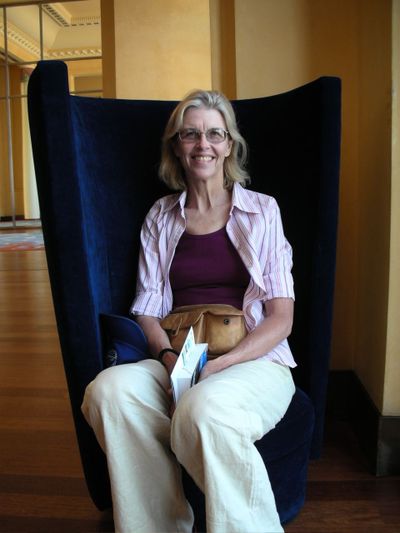 Jane Smiley nails the Hollywood movie culture so thoroughly in her latest novel, "Ten Days in the Hills," she clearly must run with the producer-director-agent crowd, right?
"No," laughs Smiley. "I was not a person in the know. I just sort of kept my eyes open and kept reading books. You know, there are plenty of books about Hollywood."
She'll read from "Ten Days in the Hills" tonight as part of the Get Lit! literary festival. Other well-known writers also are part of the 10-day event – Charles Baxter, David Suzuki, Paul Roberts, Simon Armitage – yet Smiley is the biggest name and certainly the only one with a Pulitzer Prize for literature.
But unlike the people who lounge around the pool in her novel, she's hardly part of the Oscar night party crowd.
The sum total of her movie-set experience came more than 10 years ago when she was allowed to visit the set of "A Thousand Acres," based on her Pulitzer-winning novel, for a total of one day.
So Smiley did it the old-fashioned way, with research and imagination. For one thing, she watched as many of those DVD director and actor commentaries as she could.
"There were great moments where the great actress Elizabeth Taylor tells what she learned from the great actor Montgomery Clift," said Smiley, by phone from her home in Carmel, Calif.
"But there were also moments where some nameless hack director talks about his fabulous vision, that results in some piece of junk. But that was really informative, too, because it made me see that these directors, no matter who they are, were never joking about having an artistic vision."
"Ten Days in the Hills" was described by some reviewers as a satire, or even a skewering, of Hollywood. It certainly has some of those elements. One director wants to film a movie titled "My Lovemaking with Elena," entirely about making love to his girlfriend.
Yet Smiley for the most part is sympathetic toward Hollywood and the people who work in it. She said the novel was received well in Hollywood and Los Angeles.
"It was respectful of what they do there," she said. "More and more as I wrote the book, I came to see movies as a type of art rather than commerce. I came to see them as part of a long tradition of art as it evolved."
Just as "A Thousand Acres" was a reworking of "King Lear," this novel is based on Boccaccio's "The Decameron," a collection of comic and romantic tales from 1350.
Like "The Decameron," Smiley's book takes place over 10 days and focuses on a group of people in a large house, who take turns telling stories that range from the erotic to the tragic.
Some of those stories, for realism's sake, are essentially Hollywood gossip about real figures.
"That is authentic gossip, but it was already well known," said Smiley. "Nobody was surprised by anything I had to say."
Most are stories from the fictional characters' pasts. None of the main characters are based on present-day Hollywood figures, although some are based on past figures. For instance, there's a star singer-actress named Zoe.
"It's clear to me that Zoe is a kind of modern Lena Horne," said Smiley. "All you have to do is think of Lena Horne and put her in the modern world. That's what I tried to do with all of my characters."
Smiley also wanted to emulate Boccaccio's ability to bring his characters' era to vivid life. While lounging around the pool, they engage in impassioned discussions about the Iraq War, about real estate, about L.A. food fads.
In that way, she was also inspired by the novels of Anthony Trollope, the Victorian English novelist.
"Trollope was wonderful at that," said Smiley. "He was a very worldly person, and he had a kind of judicious and open mind. … Trollope really does tell you about his era."
Smiley said she also plans to read tonight from her book "Thirteen Ways of Looking at the Novel," a study of the art and craft of the novel.
The event at the Bing Crosby Theater will open with a reading by Laurie Notaro, a humorist and author of "The Idiot Girl and the Flaming Tantrum of Death."
Local journalism is essential.
Give directly to The Spokesman-Review's Northwest Passages community forums series -- which helps to offset the costs of several reporter and editor positions at the newspaper -- by using the easy options below. Gifts processed in this system are not tax deductible, but are predominately used to help meet the local financial requirements needed to receive national matching-grant funds.
Subscribe to the Coronavirus newsletter
Get the day's latest Coronavirus news delivered to your inbox by subscribing to our newsletter.
---
Subscribe and log in to the Spokesman-Review to read and comment on this story