News > Features
'The Beast' faces uncertain future
Fate of series rides on final episodes, health of lead actor
Thu., April 16, 2009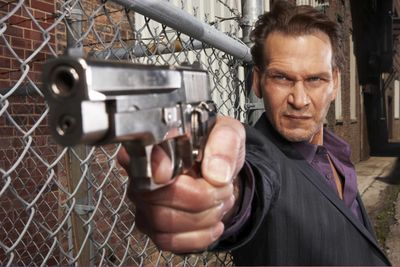 Heading into its home stretch, A&E's drama "The Beast" will resolve several questions that have dogged freewheeling FBI agent Charles Barker all season.
But other questions loom – much larger questions about the series and its ailing star, Patrick Swayze.
The future of "The Beast" and Swayze's continued participation remain unclear, according to A&E President Bob DeBitetto, who's waiting to see how the season's final two episodes score.
Airing at 10 p.m. Thursdays, the series concludes its season next week.
Since premiering in January, "The Beast" has logged an average weekly audience of 1.3 million viewers, "which gets us to second base," DeBitetto said.
However, he added: "We're kinda used to hitting triples here, or better."
Neither ratings nor A&E's declared pride in the series can dictate whether "The Beast" will get a second-season pickup. The overriding question mark, of course, is Swayze's fight against pancreatic cancer.
"As has been the case from day one, it is all about Patrick – in a lot of ways," said DeBitetto. "It is about his condition, and when and whether he would be up for another grueling production schedule."
Swayze, who was unavailable for comment, went public with his diagnosis a year ago. Then he threw himself into shooting "The Beast" on location in Chicago in the rigorous role of Barker, who's a rough-and-tumble undercover agent teamed up with rookie Ellis Dove (played by Travis Fimmel).
Swayze's illness has had no discernible effect on his gritty portrayal. Even so, the series arrived on a wave of publicity tied to his dim prognosis, including accounts that he was near death.
Those reports were further fueled when he missed a scheduled press appearance after checking himself into a Los Angeles hospital for pneumonia.
In a televised interview with Barbara Walters, he acknowledged that most patients with advanced pancreatic cancer face grim odds.
"I'd say five years is pretty wishful thinking," Swayze told her. "Two years seems likely, if you're going to believe statistics."
DeBitetto hailed Swayze for having "the gumption to take on a show like this while undergoing aggressive chemotherapy."
"He has already, in a lot of ways, beaten the odds," said DeBitetto.
Known for such films as "Ghost" and "Dirty Dancing," the 56-year-old Swayze is "a beloved actor who has made movies that mattered to people's lives," said DeBitetto.
But he acknowledged that the future of "The Beast" need not necessarily be tied to Swayze's involvement. His character could be written out of the series, which could take a different turn with Dove and, perhaps, new characters.
Backup provisions like this were being discussed throughout the first season's shooting, DeBitetto said.
"Everybody had their eyes wide open that, after a few episodes, Patrick just might not be up for continuing," he said. "What do you do then? Fortunately, we didn't have to face that."
Local journalism is essential.
Give directly to The Spokesman-Review's Northwest Passages community forums series -- which helps to offset the costs of several reporter and editor positions at the newspaper -- by using the easy options below. Gifts processed in this system are not tax deductible, but are predominately used to help meet the local financial requirements needed to receive national matching-grant funds.
Subscribe to the Coronavirus newsletter
Get the day's latest Coronavirus news delivered to your inbox by subscribing to our newsletter.
---
Subscribe and log in to the Spokesman-Review to read and comment on this story