Sports
Baseball notebook: Doumit out with injury
Wed., April 22, 2009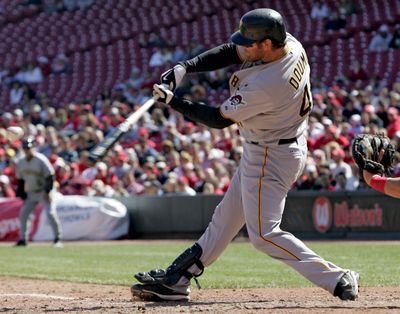 Pittsburgh catcher Ryan Doumit, a native of Moses Lake, needs an operation to repair a broken bone in his right wrist and will be out for at least eight to 10 weeks, an injury that weakens the Pirates at their thinnest position.
Doumit's operation is scheduled for Thursday, when pins will be inserted into his broken scaphoid bone to fuse it.
Doumit, who led N.L. catchers with a .318 average last season, fractured the wrist bone while batting Sunday.
"This is something I didn't see coming," Doumit said. "You do everything you can in the offseason to prepare. To have something like this, it's devastating. No one wants to be told they can't play for eight to 10 weeks."
Ump carted off
Home plate umpire Kerwin Danley left the field on a stretcher after being hit in the head by a broken bat in the sixth inning of Tuesday's game between Texas and Toronto.
Danley was taken to the hospital with a possible concussion. He did not lose consciousness.
Dukes bailed out
When outfielder Elijah Dukes made a personal appearance at a Virginia Little League's season-opening gathering for a little extra cash a few hours before a Washington Nationals game, he turned up late at his day job and was fined.
Now the Great Falls, Va., Little League – already out the $500 Dukes was promised for his appearance – says it will raise another $500 to cover Dukes' penalty for failing to arrive at Nationals Park on time.
"We felt terrible, because he was doing work for us that made him late," Great Falls Little League president Jim Mraz said. "We're going to pay the fine."
Clearing the bases
Xavier Nady will try to rehab his elbow injury without surgery, giving the New York Yankees' right fielder a chance to return this season. … Red Sox shortstop Jed Lowrie had surgery on his left wrist and will miss at least six weeks. Also, Boston placed outfielder Rocco Baldelli on the 15-day DL with a strained left hamstring. … Oakland reliever Joey Devine is out for the season following right elbow surgery.
Local journalism is essential.
Give directly to The Spokesman-Review's Northwest Passages community forums series -- which helps to offset the costs of several reporter and editor positions at the newspaper -- by using the easy options below. Gifts processed in this system are not tax deductible, but are predominately used to help meet the local financial requirements needed to receive national matching-grant funds.
Subscribe to the sports newsletter
Get the day's top sports headlines and breaking news delivered to your inbox by subscribing here.
---
Subscribe and log in to the Spokesman-Review to read and comment on this story