Sports
Eagles draft Cougs' Gibson
Mon., April 27, 2009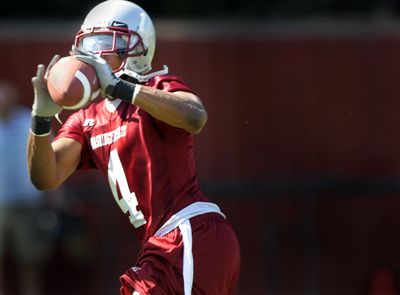 Brandon Gibson's months of frustration and personal loss – and then an agonizing weekend of waiting – ended Sunday when Washington State's star receiver became the state's only collegian selected in this year's NFL draft.
The Cougars' career leader in receiving yards went to the Philadelphia Eagles in the sixth round Sunday, at No. 194 overall. He will travel east for a minicamp with the team later this week.
"I'm excited to be an Eagle," Gibson was quoted on the team's Web site during a family draft party attended by his mother, two uncles and sister.
He immediately played the role of respectful rookie, calling Philadelphia's star quarterback Donovan McNabb "Mr. McNabb."
Central Washington quarterback Mike Reilly and tight end Jared Bronson were trying to become the first players selected from the Division II school since the NFL draft was cut back from 12 rounds in 1993, but neither got drafted. However, both signed free agent contracts Sunday night – Reilly going to the Pittsburgh Steelers and Bronson to the Miami Dolphins.
Washington had no one drafted for the second consecutive year. Center Juan Garcia was also hoping for a free-agent contract and tryout late Sunday.
Washington State has had at least one player drafted in each of the past 15 years.
Gibson, from Rogers High School in Puyallup, contemplated entering the draft last year as a junior, after three seasons flourishing in Washington State's pro-style offense. He said Philadelphia showed interest in him then.
He went on to be an honorable mention All-Pac-10 selection last season for a Cougars team that finished 2-11 while having troubles adjusting to the new, no-huddle, spread offense of first-year coach Paul Wulff. Gibson finished his WSU career with 2,756 yards receiving. He is second on the Cougars' career list for catches with 182.
"It was kind of hard; I didn't play to the best of my abilities. I was frustrated," Gibson said Sunday of his senior season.
Then his father died in January. He was so distraught over that, he said, he couldn't train for a while.
"I was kind of really messed up," he said.
When he got to the postseason Senior Bowl All-Star game, Gibson pulled a hamstring muscle. He missed the important showcase for NFL scouts and a chance to show them his speed.
"It's definitely been rough. Been through a lot of steps – family-wise and also with my injury at the Senior Bowl," Gibson said.
"All that really goes out the door now, because I've got the opportunity to play football."
Gibson doubted he would get that chance as the weekend dragged on and the agony of waiting for a call from a team grew.
"I didn't think I was going to have an opportunity to play or get drafted," he said, adding with a chuckle that at one point, "St. Louis gave me a call at the end of the fifth round, to see if I was still alive."
Local journalism is essential.
Give directly to The Spokesman-Review's Northwest Passages community forums series -- which helps to offset the costs of several reporter and editor positions at the newspaper -- by using the easy options below. Gifts processed in this system are not tax deductible, but are predominately used to help meet the local financial requirements needed to receive national matching-grant funds.
Subscribe to the sports newsletter
Get the day's top sports headlines and breaking news delivered to your inbox by subscribing here.
---
Subscribe and log in to the Spokesman-Review to read and comment on this story