Sports
Jets get aggressive
Team active on both days of draft
Mon., April 27, 2009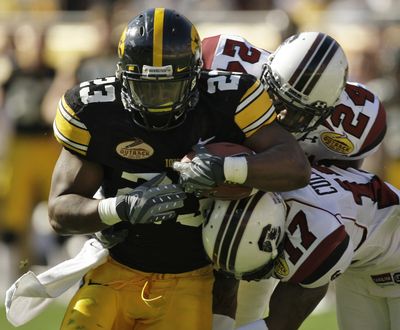 NEW YORK – If there's an NFL executive Jets general manager Mike Tannenbaum hasn't approached with an offer to trade up in the draft, he should be ready for a call next year.
With Brett Favre retired and Thomas Jones threatening to stay away without a renegotiated contract, Tannenbaum was super active at the beginning of both days of the draft this weekend. His aggressiveness landed quarterback Mark Sanchez in the fifth overall spot.
After Tannenbaum caught his breath – his team had no more picks in the first two rounds – he began Sunday's session by dealing with Detroit to start things off.
The Jets filled a potential hole with Iowa running back Shonn Greene, who rushed for at least 100 yards in all 13 games last year, his only season as a regular.
"I won't get into any specifics, but to say that our phone bill was pretty significant over the last couple days would be fair," Tannenbaum said.
"But we had to assess what was best for the Jets and those were hard judgment calls to make."
At least Tannenbaum is consistent. In the past four drafts, he's traded up to get key players: in 2006, quarterback Kellen Clemens; in 2007, cornerback Darrelle Revis and linebacker David Harris; and last year, tight end Dustin Keller.
Chicago and Dallas finally made their first picks, in the 68th and 69th slots. The Bears went for defensive tackle Jarron Gilbert of San Jose State, and the Cowboys selected Western lllinois linebacker Jason Williams.
"I know a lot was said about him at the top of the second round," Bears GM Jerry Angelo said of Gilbert. "For whatever reason, it didn't happen.
"We really didn't expect him to be there but we felt, as I said, given that we wanted to trade down, given that we had four players that we liked and felt good that one of them would be there, that's what happened."
Williams wasn't even invited to the NFL combine in February.
"It probably had something to with being an FCS player," said Williams of his small-college background. "I got overlooked in the process."
Quarterbacks pretty much were overlooked until late in the second day. Only four went in the first two rounds, including top overall choice Matthew Stafford of Georgia to Detroit. Through three more rounds Sunday, Stephen McGee of Texas A&M was the top choice in the fourth round, by Dallas. Former Oklahoma QB Rhett Bomar, who transferred to Sam Houston State, was taken by the Giants in the fifth round, followed by Ball State's Nate Davis to San Francisco.
But the sixth round saw Fresno State's Tom Brandstater go to Denver and Rutgers' Mike Teel (to Seattle) go in the first five spots. Two more went that round: Keith Null of West Texas A&M, and Curtis Painter of Purdue.
Not chosen was Graham Harrell, the record-setting passer from Texas Tech.
The Miami Hurricanes had gone 14 straight drafts with a first-round pick. This year, no Hurricane had gone until linebacker Spencer Adkins went to Atlanta at No. 176.
The final selection, No. 256 overall, was South Carolina placekicker Ryan Succop.
Southern California had the most choices, 11.
Local journalism is essential.
Give directly to The Spokesman-Review's Northwest Passages community forums series -- which helps to offset the costs of several reporter and editor positions at the newspaper -- by using the easy options below. Gifts processed in this system are not tax deductible, but are predominately used to help meet the local financial requirements needed to receive national matching-grant funds.
Subscribe to the sports newsletter
Get the day's top sports headlines and breaking news delivered to your inbox by subscribing here.
---
Subscribe and log in to the Spokesman-Review to read and comment on this story