Sports
Baseball notebook: Wright hears boos
Mon., April 27, 2009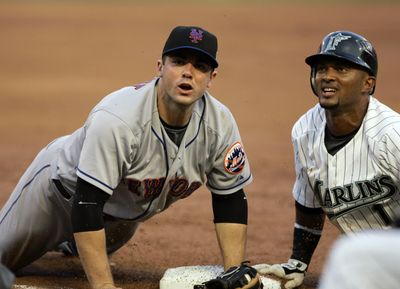 Was it only 14 days ago that fans at Citi Field in New York were on their feet cheering David Wright as he became the first player to hit a home run in the new park?
Wright is the most popular player on the team, but you wouldn't know it if you had dropped in from Mars to attend your first Mets game Sunday. Fans booed the usually beloved Wright in the sixth inning after he struck out for the third straight time in the Mets' 8-1 loss to the Washington Nationals. He was then booed again, with a sprinkling of mock cheers, after he made it 0 for 4 with a groundout to open the ninth inning.
"David is a fighter. It's a struggle for him right now," Mets manager Jerry Manuel said.
After hitting .342 in his first 10 games, Wright is hitting .188 (6 for 32) in his past eight. After he went hitless Sunday, his average dipped to .271.
"I'm not seeing it all that well right now," Wright said. "I'm fouling off pitches I should be putting in play. It's forcing me to get into situations I don't want to get into, seeing pitches I don't want to see. I need to do a better job of recognizing pitches early in the count and putting them into play."
Wright said he feels good about his swing.
Said Wright: "I feel like my swing isn't bad, but I'm not hitting hard pitches I should be hitting hard. You have to stay confident. Through the course of a season, you're going to go though some ups and down. Obviously, I'm not producing right now at the plate. But I'm going to keep working until I do."
Clearing the bases
The Arizona Diamondbacks placed shortstop Stephen Drew on the 15-day disabled list with a strained left hamstring. The club filled Drew's roster spot by purchasing the contract of utility infielder Josh Wilson from Triple-A Reno, where he hit .260 with a home run and 10 RBIs in 15 games. … The Pittsburgh Pirates have placed shortstop Jack Wilson on the 15-day disabled list with a sprained left middle finger. The Pirates recalled infielder Brian Bixler from Triple-A Indianapolis to replace Wilson, who was hitting .255 with no home runs and seven RBIs in 14 games. Bixler was hitting .327 with no homers and eight RBIs in 14 games at Indianapolis.
Local journalism is essential.
Give directly to The Spokesman-Review's Northwest Passages community forums series -- which helps to offset the costs of several reporter and editor positions at the newspaper -- by using the easy options below. Gifts processed in this system are not tax deductible, but are predominately used to help meet the local financial requirements needed to receive national matching-grant funds.
Subscribe to the sports newsletter
Get the day's top sports headlines and breaking news delivered to your inbox by subscribing here.
---
Subscribe and log in to the Spokesman-Review to read and comment on this story