News > Features
Bob Weir set to bring 'other' popular band to Spokane
Thu., Aug. 20, 2009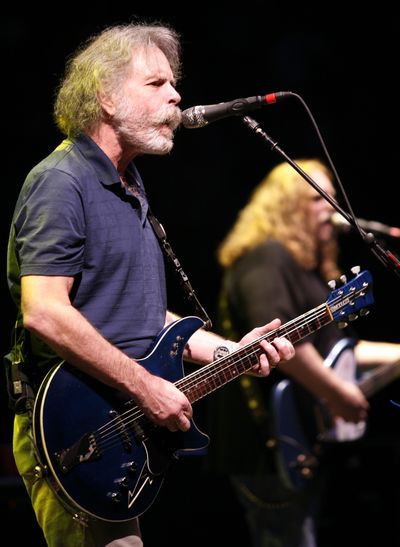 Bob Weir is closely identified with the Grateful Dead, the band he made history with for 30 years, beginning in 1965.
Yet his "other" band, RatDog, is not exactly a young pup either. RatDog has been around for 14 years and has become a popular live attraction as well.
Weir and RatDog roll into the Martin Woldson Theater at the Fox on Tuesday, and you might be surprised at the musical ground they cover.
You'll hear plenty of Grateful Dead songs – after all, Weir wrote a lot of them. Familiar Dead tunes like "A Touch of Grey," "Ripple" and "Sugar Magnolia" often show up on set lists.
You'll also hear covers of songs by other artists associated with the '60s. At one recent appearance, RatDog served up versions of Bob Dylan's "All Along the Watchtower" and "Desolation Row," along with Willie Dixon's "Little Red Rooster" and the Beatles' "Come Together."
And, naturally, you'll hear a few RatDog originals, such as "Even So," "October Queen," "Odessa" and "Money for Gasoline."
According to the band's bio, RatDog "began as a laid-back blues ensemble in 1995," but has become a "snarling rock band that has a fabulous jazz trio at its heart." The current lineup includes Jay Lane, Robin Sylvester, Kenny Brooks, Jeff Chimenti and Mark Karan.
Weir might have had some hesitation about how he could top the Grateful Dead, one of rock's legendary live acts. But he didn't have a choice. He was born to tour.
"When I was a kid, like 8 or 9 years old, my brother taught me how to tune a radio," Weir was once quoted as saying. "That was it for me. I knew I wasn't going to be a fireman or an Indian chief. … I was going to be a musician."
Meanwhile, his Grateful Dead days are not entirely behind him. This spring, he performed 22 shows (including one at The Gorge) with the band now known as the Dead, which emerged from the ashes of the Grateful Dead after Jerry Garcia died.
Local journalism is essential.
Give directly to The Spokesman-Review's Northwest Passages community forums series -- which helps to offset the costs of several reporter and editor positions at the newspaper -- by using the easy options below. Gifts processed in this system are not tax deductible, but are predominately used to help meet the local financial requirements needed to receive national matching-grant funds.
Subscribe to the Coronavirus newsletter
Get the day's latest Coronavirus news delivered to your inbox by subscribing to our newsletter.
---