News > Features
Monstrous Rock Hard II hits Spokane
Black Label Society, Mudvayne headline Pedal to the Metal Tour
Fri., Aug. 21, 2009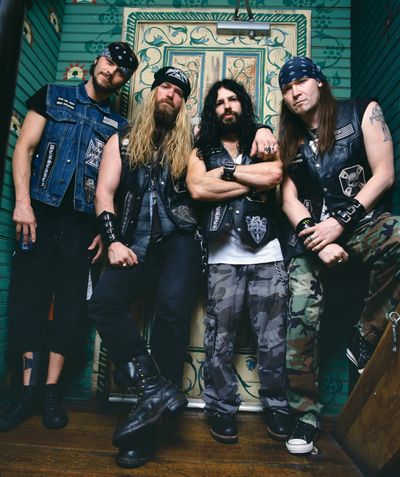 JD DeServio may be pulling double duty, but it's still business as usual for Black Label Society's bassist.
In anticipation of recording an album with Zakk Wylde's Black Label Society, DeServio is touring the summer away with Mudvayne on the monstrous Pedal to the Metal minifestival, which arrives today at the Spokane Arena.
In his spare time he's also pumping the new album from his side project, Cycle of Pain, which kicked off the first few shows of the Pedal to the Metal tour with opening slots.
"We're chillin' for now, but we had a blast with Black Label in July," DeServio said of his new band during a telephone interview.
Pedal to the Metal was originally planned as a basic two-band bill with Black Label Society and fellow hard-rockin' heavyweights Mudvayne, until Mudvayne singer Chad Gray challenged guitar god Wylde to go all out.
So the tour was expanded to include the extended Black Label family, including Static X, Suicide Silence, Dope, Bury Your Dead and an underworld freak show, Hellzapoppin.
DeServio likened it to a smaller version of Ozzfest, punctuated by the between-sets weirdness of Hellzapoppin.
"The economy is bad for everyone, but the shows have been killer," DeServio said. "Static X has a heavy, heavy drummer, and (Static X frontman) Wayne's wife has been getting up and dancing on stage – he married this porn star chick, but enough about that …
"Dope is this new screamo band that plays fast blast beats, (and) we've got a freak show with jugglers, crystal balls, a penguin man and a hot chick swallowing swords."
After launching Pedal to the Metal with Cycle of Pain one-offs, DeServio said he hopes to end the tour the same way.
He'll be pushing Cycle of Pain's self-titled April release until winter, when it's time to go back into the studio with Black Label to follow up on that band's own April release, "Skullage."
Also, Black Label Society rhythm guitarist Nick Catanese is set to go back to work on the new album for his Speed X side project, which features Mike Stone from Queensryche.
DeServio said he has yet to hear any of Wylde's material for the new Black Label Society album. That's typical, he said, pointing to early BLS recordings where Wylde played everything except drums.
"Zakk brings all the music," DeServio said. "I just play the riffs."
Local journalism is essential.
Give directly to The Spokesman-Review's Northwest Passages community forums series -- which helps to offset the costs of several reporter and editor positions at the newspaper -- by using the easy options below. Gifts processed in this system are not tax deductible, but are predominately used to help meet the local financial requirements needed to receive national matching-grant funds.
Subscribe to the Coronavirus newsletter
Get the day's latest Coronavirus news delivered to your inbox by subscribing to our newsletter.
---