News > Features
Start of a red-hot career?
Mon., Dec. 7, 2009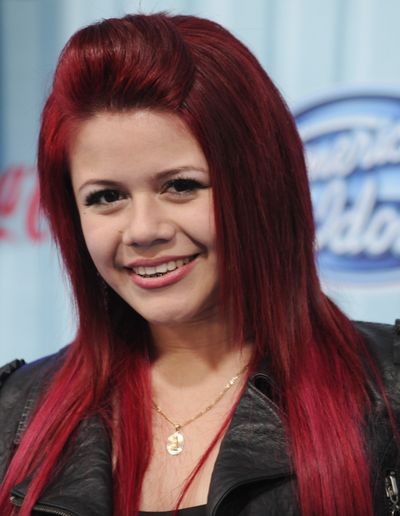 Allison Iraheta has come a long way since her awkward first interview with Ryan Seacrest.
The spunky 17-year-old singer – who stuttered and stammered when the "American Idol" host prodded her about school at the beginning of Season 8 – went on to win rave reviews from judges, leaving a lasting impression with her take on Janis Joplin's "Cry Baby."
Iraheta placed fourth behind Kris Allen, Adam Lambert and Danny Gokey, yet still snagged a record deal with "Idol" label 19 Recordings and Jive Records.
The redhead – who's added purple and pink streaks to her memorable coif – says "Just Like You," released last week, accents her innate edginess.
"It's definitely a pop record with a rock edge over it," she says. "There's just a variety of different sounds.
"It's kind of crazy. At first, people were asking me, 'What's up with you coming out with a single that's straight poppy ("Friday I'll Be Over U")? What happened to rocker Allison?' "
She worked with Chris Daughtry, who finished fourth on Season 5 of "Idol."
"We kept talking about how crazy it was we both came in fourth place," Iraheta says.
"He was telling me how, when he got cut, he was so bummed but that everything worked out. I was like, 'I felt that way, too, man!' He's cool."
Iraheta hasn't gone back to school since starting her music career, though "I'm still doing independent studies. It's a little hard. I'm trying to get it out of the way.
"My life is totally different. People know who I am now. Not only do people stare at me because of the redness in my hair, but they act like they know me, even if they don't remember my name.
"They'll say, 'Hey, it's that redheaded girl from "Idol." ' "
The birthday bunch
Actor Eli Wallach is 94. Actress Ellen Burstyn is 77. Singer Tom Waits is 60. Actor C. Thomas Howell is 43. Actress Shiri Appleby ("Roswell") is 31. Singer Sara Bareilles is 30. Singer Aaron Carter is 22.
Local journalism is essential.
Give directly to The Spokesman-Review's Northwest Passages community forums series -- which helps to offset the costs of several reporter and editor positions at the newspaper -- by using the easy options below. Gifts processed in this system are not tax deductible, but are predominately used to help meet the local financial requirements needed to receive national matching-grant funds.
Subscribe to the Coronavirus newsletter
Get the day's latest Coronavirus news delivered to your inbox by subscribing to our newsletter.
---