Sports
Spokane Chiefs goalie breaks the mold
James Reid doesn't do goofy
Sun., Dec. 27, 2009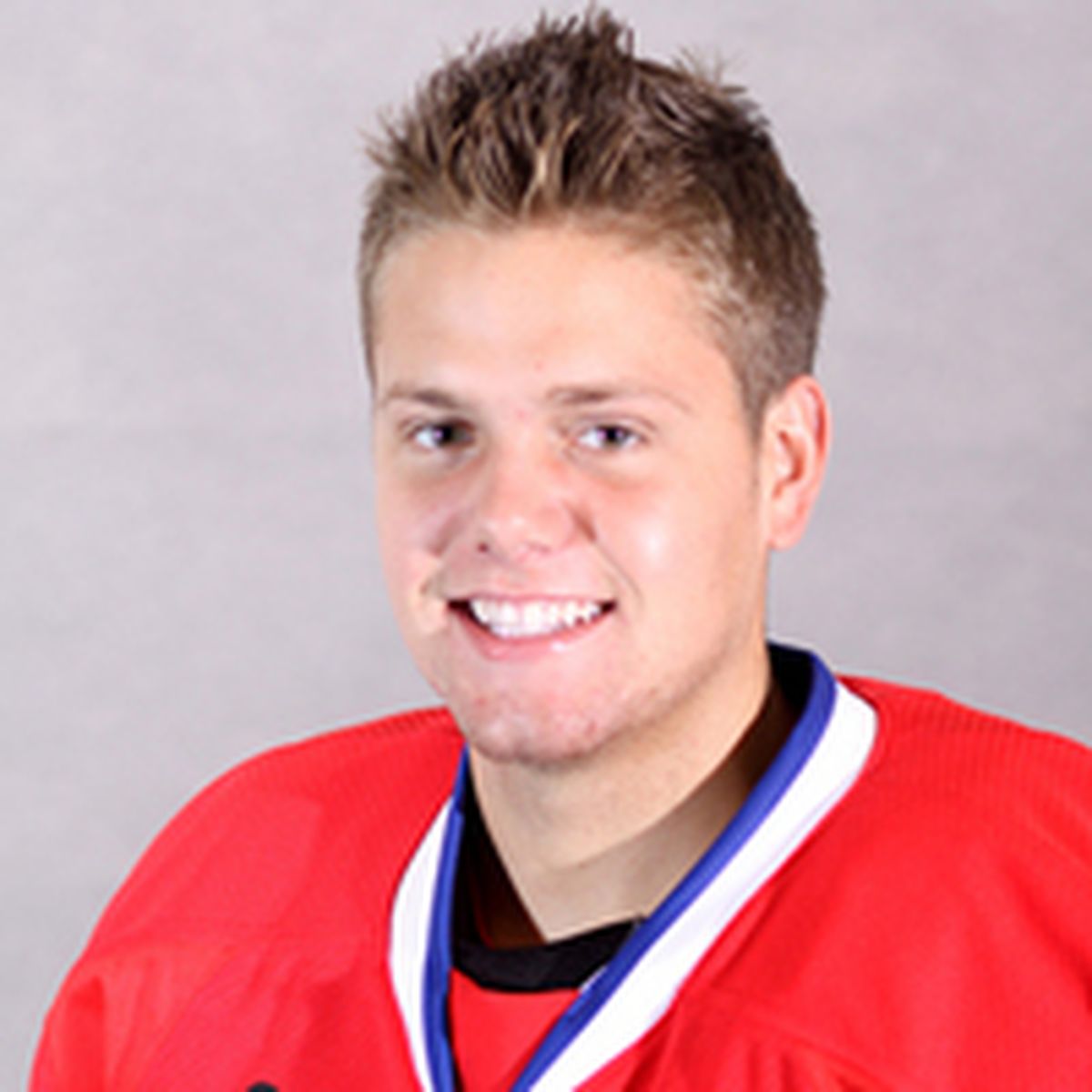 Reid
Hardy Sauter described James Reid the best. "He's different than different," the Spokane Chiefs coach said. How much easier can he say your goalie doesn't fit into the stereotype with left-handed relievers and field-goal kickers?
"Stereotypically you can categorize goalies that way, and too often you're correct," Chiefs general manager Tim Speltz said, quick to point out that Reid didn't fit the mold.
In typical fashion, Reid doesn't understand the fuss, whether it be about zany goalies or his lack of zaniness.
"I've heard that a lot," he said. "People talk about how crazy (goalies) are. I've never really met an absolutely crazy goalie. I don't know what they're talking about."
Reid does have a couple of superstitions, but nothing really outrageous or more noticeable than when he skates from his goal to the right corner during stoppages in play.
Whatever Reid is doing, it would be a good idea not to change anything.
With an amazing November – 10 wins in 11 games, 12 goals against – Reid has moved to the top of Western Hockey League goalies with a league-best 2.09 goals-against average and .927 saves percentage for 18 wins, tied for second in the league.
"I think that's my best run, for sure," Reid said. "I started the month with a shutout and I just had a lot of confidence. Everything seemed to go my way."
Calling it his best run goes back a ways since he started playing goalie as an 8-year-old in Calgary, Alberta, something his father still can't figure out.
"I played a lot of hockey, but never in goal," Geoff Reid said. "It's the craziest thing. Our oldest son was a goalie. I fought him until he was about 13, then I finally gave in. He just loved it and James followed him.
"Scott (now 25) was a really, really strong player, always made all of the top teams in Calgary. That's probably what hurt the most. Up here, everybody starts out as skater. James did the same thing. Everyone has to take a turn in goal and he just loved it, so did Scott. They couldn't wait for their turn in goal.
"The worst thing is when they tried it they were successful at it. I think everyone dreams that when they try it they let in 10 goals."
"I think it's fun," James said. "I just like being the last man back."
"The further away from the goalie, the less responsibility there is for goals against," his father said. "It's very difficult. There's a lot of stress on the parents. I have a nice shock of white hair. I think it's from both my boys being goalies."
James' success led to him being drafted by the Everett Silvertips in the 10th round of the 2005 draft. He never made an impression and was released.
"They had a lot of goalies (and) I didn't have the greatest camp either," he said.
That only served to motivate him more and he jumped at the chance when the Chiefs came calling.
"We had identified our goaltending as being a weakness," Speltz said. "We were actively trying to find free-agent goaltenders. That's how we found Dustin Tokarski and James Reid. A lot of good players have developed because of opportunity. Those guys were pretty good goaltenders that deserved a chance."
Reid started the 2007-08 season with the Chiefs, who kept him around until November before deciding to stick with two veteran goalies, Tokarski and Kevin Armstrong. After leading his Calgary team to the Junior A playoffs, Reid was back as the third wheel for the Memorial Cup run.
"He had never not been the star goalie of his team," Geoff Reid said. "We made a lot of drives to Spokane to encourage him."
Reid returned last season as the backup. While Tokarski was rewriting the Chiefs' record book, Reid played in just 18 games. It's a testament to his makeup, as well as the team, that Reid never showed any rust. He won 12 games with a 1.68 goals-against average.
"It was tough," he said. "I think I was playing only once in every seven or eight games. In practices I had to work extra hard to be ready when I had my chance. I stayed focused, because I knew I had to play when Dustin went to the World Juniors."
In that stretch spanning Christmas, Reid held his own – and he did it with several other top teammates at the tournament.
That string impressed Sauter and Speltz and they were sure they had a front-line goalie heading into this season.
"I liked the fact he was athletic when he played and the fact he did it over a period of 15 to 18 games, it wasn't just two or three," Sauter said. "There is a little bit of gambling. You never really quite know, but we just felt comfortable with him. We felt he would grow into the role and he has."
"Longevity and consistency is what determines a goaltender," Speltz said. "We have the most challenging part of the year still ahead of us."
The Chiefs – minus three players at the World Junior Tournament – return from Christmas break to face Portland tonight at the Arena. Reid hopes he doesn't struggle to find his groove like he did at the start of the season when he opened 2-4.
"I could have been playing a lot better," he said. "Being a starter for the first time I think I was putting too much pressure on myself. After September I realized if I played my game, I'd be fine. The coaches had confidence in me."
"It wasn't just him, it was our whole group," Sauter said. "The lack of games early on, there was a little bit different preparation he needed to use. Once he got it figured out, and not just him, obviously the results speak for themselves."
Another aide was going back to what he learned from Tokarski.
"He's an amazing goalie," Reid said. "He's the most consistent goalie I ever played with. He really didn't make any mistakes, (but) he didn't do anything special either. I learned to keep it simple all the time, do the easy thing."
Geoff Reid has come to appreciate goalies, at least the normal ones. While James is living his dream, Scott, a chemical engineer in Calgary, still plays at a high level.
"Both are the same way," the proud father said. "No crazy routines or rituals, they're very even-keeled. For James, the tougher the situation, the better he does. He seems to thrive on stress."
And now his father's trips to Spokane are to nervously enjoy games.
Notes
The Spokane Chiefs have added 16-year-old forward Mike Aviani to their roster through Jan. 5. Aviani was the team's fifth-round selection in the 2008 bantam draft. He has scored 18 goals and 30 points in 23 games with the Grandview Steelers of the Pacific International Junior Hockey League.
Local journalism is essential.
Give directly to The Spokesman-Review's Northwest Passages community forums series -- which helps to offset the costs of several reporter and editor positions at the newspaper -- by using the easy options below. Gifts processed in this system are not tax deductible, but are predominately used to help meet the local financial requirements needed to receive national matching-grant funds.
Subscribe to the sports newsletter
Get the day's top sports headlines and breaking news delivered to your inbox by subscribing here.
---