Sports
Cougars state case
WSU focuses on two areas
Thu., Feb. 5, 2009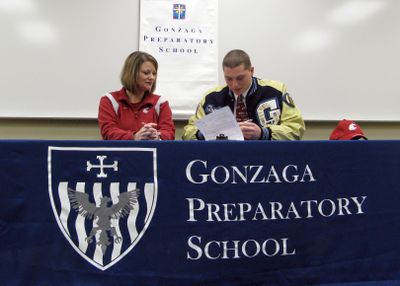 PULLMAN – When Paul Wulff was hired as Washington State's football coach 14 months ago, he made it clear he wanted to change two things about the Cougars' recruiting.
He wanted to win the state and he wanted to reestablish WSU as a force in California.
Wednesday, the first day high school seniors could sign their binding letters of intent, the Cougars did both of those things.
"Successful football teams in years past here have always had that heavy dose of kids in these geographic areas," Wulff said. "That's how we're going to get it built back to being a Pac-10 contender."
Wulff and his assistants attracted seven Washington high schoolers, including Gonzaga Prep defensive lineman Travis Long, whom Wulff termed "really epitomizes what we're looking for," and receiver Gino Simone of Skyline High in Issaquah, the state's highest-rated recruit according to one on-line scouting service.
Long said Wulff was able to reestablish WSU as a force in the state.
"When they were winning 10 games a season, they were getting the best kids out of Washington," said Long, who will join Lewis and Clark defensive end Chris Mastin in Pullman next year. "They are just trying to get back to that."
Long and Mastin were all-state honorees and shared the Greater Spokane League defensive MVP award.
"He's got a lot of heart and he plays with a lot of energy," Long said of Mastin.
Nine of the remaining 13 high school signees are from California, including quarterback Jeff Tuel, from Clovis West High in the Fresno suburb, and three linemen.
"We would love for him to be really good, really fast," said Wulff of the 6-foot-3 Tuel who committed last August. "We all have to be patient with him. He's a young quarterback … who had one legitimate year as a starter. But we are very high on his potential."
The Cougars' class includes two junior college signees who will not contribute in the upcoming season. One is tight end Peter Tuitupou, who enrolled last month only to drop out to take his Latter-day Saint mission. Wulff said WSU was blindsided by his decision.
"There was nothing that led us to believe this would happen," Wulff said. "If it was, we probably wouldn't have recruited him."
The other is highly regarded defensive end Brandon Rankin of Butte JC in Northern California. The only four-star recruit in WSU's class has yet to qualify academically. The Cougars will offer Rankin, who will not play this fall, academic support this year in hopes he can enroll next spring.
"We will aid him through the process to do well academically," Wulff said of one of the West Coast's highest-rated pass rushers. "He's a wonderful kid and a good person so he's worth giving the time to."
The final member of the class is wide receiver Johnny Forzani, a Canadian who played in Alberta last fall for the Calgary Stampeders' practice squad. The 6-1, 200-pound Forzani is expected to battle for a starting spot this fall.
Wulff would rather focus his efforts on high school players.
"It's pretty evident the JC route doesn't work. It's not been a proven success," Wulff said. "You're not going to build a program through JCs. I'm here to build a program. We're going to build a very good one, and it's going to be done with high school players.
"We might sign an occasional one or two, but you just don't build programs that way."
Notes
WSU has awarded scholarships to linebacker Myron Beck, kicker Nico Grasu and wide receiver Jeffrey Solomon, who redshirted last year after transferring from Eastern Washington. All three, along with grayshirts Josh Luapo, Alex Reitnouer and Tim Hodgon, who have already enrolled, count against WSU's NCAA-mandated 25 initial scholarships for this year. According to Wulff, one or two of Wednesday's signees may not qualify academically, meaning one or two of the signees will join Rankin in grayshirt entering WSU next spring. … Long said he always had a feeling he would pick WSU because he had family attend the school. "But, after visiting both Boise State and Washington State, I just liked the people who were at Washington State – the coaches, the players. They couldn't really compare to any place else." Long will play on the defensive side. "I really enjoy playing defense more," he said. … WSU kept the Washington players despite late pushes from other schools, Wulff said. "They did a wonderful job, which speaks volumes about their character and their parents, of holding true to their commitment. You don't see that that often nowadays." The 20 high school seniors who committed orally all signed Wednesday. … One of those is safety Casey Locker, cousin of UW star quarterback Jake Locker. … Other than Washington and California, the other states represented by the high school signees include Colorado, Utah, Hawaii and Idaho. The lone Gem State signee is middle linebacker Darren Markle, from Mountain View High in Meridian.
Local journalism is essential.
Give directly to The Spokesman-Review's Northwest Passages community forums series -- which helps to offset the costs of several reporter and editor positions at the newspaper -- by using the easy options below. Gifts processed in this system are not tax deductible, but are predominately used to help meet the local financial requirements needed to receive national matching-grant funds.
Subscribe to the sports newsletter
Get the day's top sports headlines and breaking news delivered to your inbox by subscribing here.
---