Sports
James follows Bryant with 52 against Knicks
Thu., Feb. 5, 2009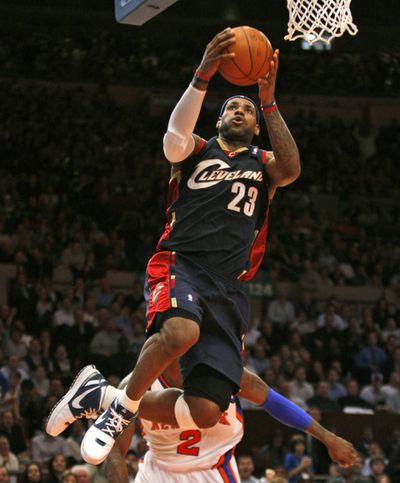 LeBron James couldn't catch Kobe Bryant, so he settled for matching Michael Jordan.
James scored a season-high 52 points in his 21st career triple-double, joined Jordan as the only players with multiple 50-point games at the present Madison Square Garden, and led Cleveland to a 107-102 victory over New York on Wednesday night.
James added 11 assists and 10 rebounds, becoming the first player since Kareem Abdul-Jabbar in 1975 to have a triple-double in a 50-point game. James grabbed his final rebound with less than 2 seconds left, then tumbled out of bounds as time expired.
Bryant scores 36: Kobe Bryant scored 36 points in his first game since scoring 61 against the Knicks on Monday, Pau Gasol added 31 and the Los Angeles Lakers beat the host Toronto Raptors 115-107 for their fourth straight victory and eighth in nine games.
Toronto All-Star Chris Bosh left the game with 9:50 remaining in the fourth because of a sprained right knee.
Triple-double for Jackson: Stephen Jackson had 30 points, 11 rebounds and 10 assists for his first career triple-double, and the Golden State Warriors routed the Phoenix Suns 124-112 in Oakland, Calif.
Kapono goes for three-peat: Toronto Raptors forward Jason Kapono will be looking to become the third player to win three 3-point shootouts when he takes on five challengers in the event on Feb. 13.
Kapono will face Danny Granger of the Indiana Pacers, Rashard Lewis of the Orlando Magic, Mike Bibby of the Atlanta Hawks, Roger Mason of the San Antonio Spurs and Daequan Cook of the Miami Heat.
Hockey
Fight rules considered
The head of the NHL Players' Association believes it is time to consider a rule mandating helmet use during fights and to examine the role of one-dimensional enforcers in the game.
While a "clear majority" of players want fighting to remain a part of hockey, Paul Kelly feels his constituency is open to restrictions on the process.
"A couple that we've talked about that ought to be looked at anyway is, do you consider a rule whereby players need to keep a helmet on during the course of a fight, and perhaps require officials to step in if a helmet comes off during a fight," Kelly said before the Conn Smythe Celebrities Dinner and Auction in Toronto.
"If it's true that when guys get hurled to the ice or tripped to the ice and bang their skull on the ice is where the real danger comes from, then maybe we can protect against that. It's certainly something worth looking at," he said.
Bruins top Flyers: David Krejci and Dennis Wideman scored 25 seconds apart in the third period, lifting the NHL-leading Boston Bruins to a 3-1 victory over the host Philadelphia Flyers.
College basketball
Clemson crushes Duke
Trevor Booker scored 21 points, Terrence Oglesby had five 3-pointers and host No. 10 Clemson beat No. 4 Duke 74-47, the first time the Tigers had consecutive wins over the Blue Devils in 13 years.
Duke (19-3, 6-2) had won 22 straight over Clemson (19-2, 5-2) – most in blowout fashion – since the Tigers won three straight in the series in the 1994-95 and 1995-96 seasons.
Memphis' C-USA streak hits 50: Tyreke Evans scored 26 points and No. 14 Memphis (19-3, 8-0) won its 50th straight Conference USA game, beating SMU 79-66. The Mustangs are 6-14, 1-7.
Memphis plays Gonzaga at the Spokane Arena Saturday.
Sooners rally to win: Taylor Griffin hit a tiebreaking layup with 46.4 seconds left and followed it with two clutch free throws as No. 2 Oklahoma (22-1, 8-0 Big 12) rallied from a late nine-point deficit to beat Texas A&M 77-71 at Norman, Okla. The Aggies are 17-6, 3-5.
Spartans rip Gophers: Durrell Summers opened the game with two 3-pointers and finished with 21 points as No. 13 Michigan State (18-4, 8-2 Big Ten) beat No. 19 Minnesota (18-4, 6-4) 76-47 to snap a two-game home losing streak.
Missouri upsets Texas: Zaire Taylor hit a driving layup with 5.5 seconds left, then made a free throw to finish the three-point play, leading Missouri to a 69-65 upset of No. 16 Texas in Austin, the Longhorns' second straight home loss. Texas (15-6, 4-3 Big 12) had not lost to Missouri (19-4, 6-2) at home since 1999.
Iowa State women rout Texas A&M: Heather Ezell scored 25 points as No. 21 Iowa State pounded 10th-ranked Texas A&M 67-50 in Ames, Iowa, handing the Aggies (17-4, 5-3 Big 12) their worst loss of the season. Kelsey Bolte added 17 points for the Cyclones (17-4, 5-2 Big 12).
Miscellany
Chinese lead pairs
China's Pang Qing and Tong Jian won the pairs short program at the Four Continents competition that is serving as a test event of the Vancouver Olympics venue. Pang and Tong scored 65.60 points to edge Canada's Jessica Dube and Bryce Davison, who had 64.36.
Cuche wins super-G: Didier Cuche of Switzerland won the men's super-G at the world championships at Val D'Isere, France, for his first career gold medal at the age of 34. Defending overall World Cup champion Bode Miller finished 12th.
Bannister, Royals agree to contract: Right-hander Brian Bannister and the Kansas City agreed to a one-year contract worth $1,737,500 and avoided a salary arbitration hearing.
Coker interested in UTSA job: Former Miami coach Larry Coker has applied to lead the new Texas-San Antonio football program in what would be his first head coaching job since the Hurricanes fired him in 2006.
No Reeves reunion with Cowboys: Dan Reeves, 65, who played and coached for the Dallas Cowboys, had been at the team's facility this week in anticipation of joining the organization in some capacity but the team said that wasn't happening.
Local journalism is essential.
Give directly to The Spokesman-Review's Northwest Passages community forums series -- which helps to offset the costs of several reporter and editor positions at the newspaper -- by using the easy options below. Gifts processed in this system are not tax deductible, but are predominately used to help meet the local financial requirements needed to receive national matching-grant funds.
Subscribe to the sports newsletter
Get the day's top sports headlines and breaking news delivered to your inbox by subscribing here.
---
Subscribe and log in to the Spokesman-Review to read and comment on this story