News > Features
'Coraline' embarks on magical adventure
Fri., Feb. 6, 2009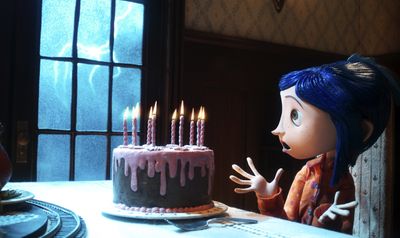 A labor of love in every frame, "Coraline" pushes the envelope of animated moviemaking while tugging at the heart.
Adapted from the children's novel by acclaimed fantasy author Neil Gaiman, the film conjures a world of wonders in 3-D stop-motion animation, the style of puppetry used to create Speedy Alka Seltzer and the Pillsbury Doughboy.
It creates two worlds, actually, as the heroine discovers a passageway from her daily life to a parallel universe that's entirely too good to be true.
The director, genius puppetmaster Henry Selick ("The Nightmare Before Christmas," "James and the Giant Peach"), has created an agreeably creepy wonderland of giant bugs, dancing flowers and acrobatic mice, along with a few hair-raising hobgoblins.
Like many good adventures featuring rabbit holes and magical dressers, the story begins in boredom.
Coraline (voiced by Dakota Fanning) has entirely too much time on her hands. New in town, impatient for the school year to begin and unable to get much attention from her benignly neglectful parents, she begins exploring their new home, a mysterious Victorian mansion.
Like all good fantasy homes, it is equipped with a secret door just the right size for a child to crawl through, and on the other side Coraline finds a replica of her household. This one, however, has lovely furnishings, scrumptious food, animated toys and two hyper-attentive parents, the Other Father and the Other Mother – a very possessive, button-eyed beauty who calls the shots and aims to keep Coraline by her side forever and ever and ever.
Teri Hatcher delivers a revelatory vocal performance as Coraline's two mothers, one speaking with exasperated affection, the other with sugarcoated malice.
Ian McShane is in fine form as a consonant-crunching Russian acrobat who lives in the apartment above Coraline's, and the English comedy team of Dawn French and Jennifer Saunders play verbal badminton as daffy old actresses who inhabit the room below.
Selick's screenplay adds a dirt-biking neighbor boy who helps save the day (undercutting the heroine's independence in order to draw in young males) and a lollapalooza action finale that turns the novel's supple, suggestive prose into something that might have been rewritten by Michael Bay.
In every way that matters, though, "Coraline" is a miraculous achievement. Films often promise a magical experience and welsh on the deal. "Coraline" delivers.
For times and locations, see page 6.
Local journalism is essential.
Give directly to The Spokesman-Review's Northwest Passages community forums series -- which helps to offset the costs of several reporter and editor positions at the newspaper -- by using the easy options below. Gifts processed in this system are not tax deductible, but are predominately used to help meet the local financial requirements needed to receive national matching-grant funds.
Subscribe to the Coronavirus newsletter
Get the day's latest Coronavirus news delivered to your inbox by subscribing to our newsletter.
---