News > Features
Leo's desires are simply human
Wed., Feb. 11, 2009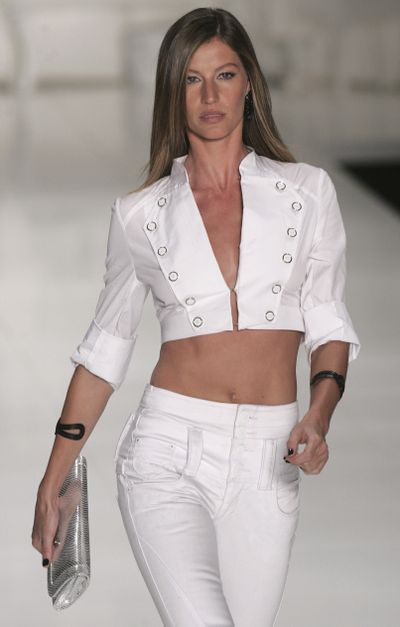 It's nice to know that celebrities tend to exhibit the same kinds of small-minded attitudes that we mere mortals do.
By the time this column goes to print, Sports Illustrated will have announced who will grace the cover of its 2009 Sports Illustrated Swimsuit Issue.
Heading into the last few hours, though, Leonardo DiCaprio was said to be hoping that his girlfriend, Bar Refaeli, would end up being the chosen one.
Refaeli, according to the New York Post, was supposed to be the 2008 cover girl. But, says a Post insider, "It's (a) very secretive (process), and the magazine likes to keep people guessing. Last year, she opened her mouth about it, so they gave the cover to Marissa Miller instead."
As for that small attitude, the Post reports that DiCaprio was rooting for Refaeli for a couple of reasons.
One, she's his current squeeze.
Two, it would likely give his former squeeze, Gisele Bundchen, a hissy fit.
Bundchen, a Brazilian-born supermodel and New England Patriot quarterback Tom Brady's current companion, has – according to her own Web site – been on more magazine covers than any other model.
Not that anyone's counting, mind you.
Hoodies are a safety hazard
Parents beware: The U.S. Consumer Product Safety Commission is recalling kids' hooded sweat shirts from Gwen Stefani's Harajuku Lovers line. The hoodies, which sell for $75 at department stores, have a drawstring through the hood that can pose a strangulation hazard.
Etta to Beyoncé: Just kidding
Recording legend Etta James is trying to snuff a furor with Beyoncé before it spreads. James says she was joking when she said she "can't stand Beyonce" and would "whip" the singer for singing her hit "At Last" at an inaugural ball for President Barack Obama.
Even so, the 71-year-old James says it stung that she wasn't asked to sing her most famous song on the historic night. Beyoncé portrayed James – and sang the 1941 song written by Mack Gordon and Harry Warren – in the film "Cadillac Records."
Bale cops to acting the 'punk'
Remember our report about Christian Bale tongue-lashing cinematographer Shane Hurlbut last July on the set of the film "Terminator Salvation"? Well, Bale now says he acted like a "punk" and that his profane tirade was "inexcusable."
Speaking on a Los Angeles morning radio show, Bale said he was likely channeling too much of his character, John Conner.
Quotable quote
"The truth is, at the end of the day, it's part of this job." – British actress Kate Winslet, 34, answering whether she has any "hangups" about doing movie love scenes, such as the one she did with 18-year-old German actor David Kross in the film "The Reader."
The birthday bunch
Actor Leslie Nielsen is 83. Actor Conrad Janis is 81. Actress Tina Louise is 75. Actor Burt Reynolds is 73. Songwriter Gerry Goffin is 70. Musician Sergio Mendes is 68. Actress Carey Lowell is 48. Singer Sheryl Crow is 47. Actress Jennifer Aniston is 40. Singer D'Angelo is 35. Actor Brice Beckham is 33. Singer-actress Brandy is 30. Singer Kelly Rowland is 28.
Local journalism is essential.
Give directly to The Spokesman-Review's Northwest Passages community forums series -- which helps to offset the costs of several reporter and editor positions at the newspaper -- by using the easy options below. Gifts processed in this system are not tax deductible, but are predominately used to help meet the local financial requirements needed to receive national matching-grant funds.
Subscribe to the Coronavirus newsletter
Get the day's latest Coronavirus news delivered to your inbox by subscribing to our newsletter.
---