Sports
It's time to get back to business
NBA teams chasing Lakers, Celtics
Tue., Feb. 17, 2009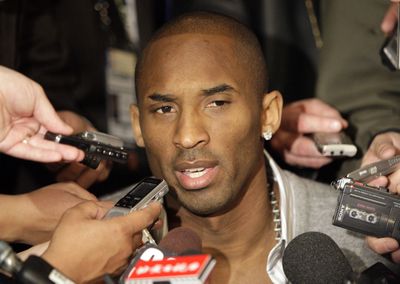 PHOENIX – Their triumphant reunion complete, Shaquille O'Neal revealed that Kobe Bryant let him keep the All-Star MVP trophy they shared.
Bryant doesn't need it. He's got his eyes on a much bigger prize.
His Los Angeles Lakers bring the best record in the league into the second half of the season, giving Bryant a realistic chance to finally win a championship without O'Neal.
"We hit the ground off and running," Bryant said after leading the West to a 146-119 victory over the East on Sunday. "It was a fun weekend. As soon as I leave this podium, it is time to get back down to business. Looking forward to it."
O'Neal headed off to a more uncertain future. His Phoenix Suns fired coach Terry Porter on Monday, and were expected to remain busy dismantling their team before Thursday's trade deadline.
Amare Stoudemire, O'Neal's All-Star teammate, is the most prominent name atop the rumor mill. But as last year proved, it's not necessarily the biggest stars that make the biggest difference.
The final piece to a championship puzzle began to take shape during the All-Star break, when Boston's Big Three used its trip to New Orleans to put a full-court press on P.J. Brown.
Brown eventually agreed to join Kevin Garnett, Paul Pierce and Ray Allen in Boston, and became a key reserve on the team that won the Celtics' 17th NBA championship.
Plenty of eyes will be on Boston to see if the Celtics can make a similar upgrade this season.
"I see Boston maybe going to get somebody before it's all said and done and helping their bench out," Cleveland All-Star LeBron James said.
The Celtics could be motivated to make a move after failing a pair of high-profile tests before the break in home losses to the Lakers and San Antonio Spurs.
They've been linked to Stephon Marbury, the banished Knicks guard who is trying to secure his escape from New York. Or, they could decide to stick with what they have – which isn't bad. Boston's 44-11 record was just percentage points behind the Lakers' 42-10 mark for best in the league.
"I think we have the pieces necessary to win another championship," said Pierce, the MVP of last season's NBA finals. "Teams are always looking to improve. If there is a way to do it, they will do it. If not, I think we are still one of the best teams in the NBA."
James' Cavaliers, neck-and-neck with the Celtics in the East, also might consider a move, as could any other title hopeful hoping there's one more part available to separate itself from the pack.
Teams like Phoenix and Houston, disappointments thus far who expected to be among the contenders out West, have to decide if they keep together or break apart their underperforming clubs.
But teams looking to strike the big deal could be wary from what happened last year, when big names such as O'Neal and Jason Kidd were traded to contenders before the deadline, yet their teams couldn't make it past the first round.
Houston made a splash with its summer acquisition of Ron Artest, but hasn't been able to keep him, Yao Ming and Tracy McGrady healthy long enough to build any type of momentum.
"A good team is not built in one day," Yao said. "We are not like the Celtics with a Big Three. I think we will need some time."
Plenty of West teams are in the same position. New Orleans, Utah and Dallas also have been inconsistent, but all hope they can get healthy and take off like the Rockets did last year, winning 22 straight games to vault up the playoff ladder.
"We were struggling and it was a little up and down, but the good thing is other teams were, too," Mavericks All-Star Dirk Nowitzki said. "If you look at New Orleans, lost some tough games. Utah, (Carlos) Boozer has been out for a couple months. They lost some games. Phoenix is struggling.
"There are a lot of teams that are up and down a little bit, and I think that's what helps us. I still think we are in a great position to have a great playoff run."
Maybe so, but things seem set up for a marquee final four of Celtics-Cavaliers and Lakers-Spurs. That would offer the potential of a championship rematch, or perhaps a duel between James and Bryant, the leading MVP candidates.
The Lakers would like their chances against anyone. Even after losing center Andrew Bynum to a knee injury that could keep him out until the playoffs, Los Angeles won at Boston and Cleveland during a 6-0 road trip before the break.
"We want to win another championship," Bryant said. "We have a good team; have the team to do it. That's our goal."
Local journalism is essential.
Give directly to The Spokesman-Review's Northwest Passages community forums series -- which helps to offset the costs of several reporter and editor positions at the newspaper -- by using the easy options below. Gifts processed in this system are not tax deductible, but are predominately used to help meet the local financial requirements needed to receive national matching-grant funds.
Subscribe to the sports newsletter
Get the day's top sports headlines and breaking news delivered to your inbox by subscribing here.
---