News > Features
'Tweaks' on 'Idol' keep it strong
Tue., Feb. 17, 2009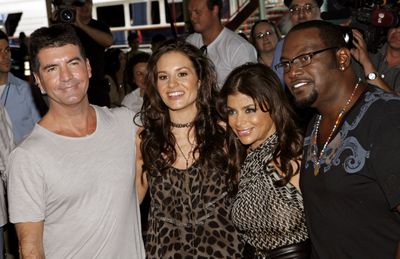 With the economy and Wall Street both teetering, it wasn't a stretch to think "American Idol" might be the next behemoth poised for a fall.
General gloom aside, it had its own issues. The Fox talent contest was entering year eight, when most shows nervously watch for plummeting ratings and a network pink slip. It was adding a new face to the popular three-judge panel and a key producer, Nigel Lythgoe, had moved on.
Could its number be up?
So much for theories. After finishing last season as television's top-ranked show, "Idol" is starting off the same way this season, dominating the competition in total viewers and advertiser-beloved young adults.
The audience of 30 million that watched January's season debut was down 10 percent from last year, reflecting a general broadcast TV decline.
But there are signs of increasing "Idol" strength: On Wednesday, a two-hour episode came within 1 percent of last year's comparable episode, with 24.6 million viewers compared to 24.8 million.
For "Idol," familiarity breeds fondness.
Back again is the drama, including hoped-for (Paula vs. Kara!), hyped (contestants clash!) and real (semifinalist Joanna Pacitti abruptly dumped!).
So is the mixed pleasure of watching the gifted and the merely ambitious singing for their lives and their dreams.
Lil Rounds, welcome to inevitable stardom. Diva Tatiana Del Toro and clown Nick Mitchell, aka Normund Gentle, enjoy your 15 minutes in the California sunshine.
The formula worked before and it's working again – this time, in part, because the show is in tune with the period, suggests Cecile Frot-Coutaz, CEO of "Idol" production company FremantleMedia North America and series executive producer.
"These are hard times we are going through," she said. " 'American Idol' is a comfort food. It's a positive show. … You'll laugh, you'll cry. In times like this, people gravitate to shows like that."
One tone-deaf move: conducting part of the Hollywood judging in a lavishly decorated mansion that an overindulged Wall Street investment banker may have called home before the fall, with the panel ensconced in thronelike chairs.
The judges gained partial redemption by sending two blue-collar guys, oil-rig worker Michael Sarver and welder Matt Breitzke, to the semifinals.
Otherwise, the production has found more sensible "tweaks," as Frot-Coutaz calls them.
A reduced emphasis on delusional shower-quality singers at the early auditions was part of the show's evolution, she said. Starting tonight, the 36 semifinalists will be broken up in groups of 12, competing one after another to prevent their overexposure and audience fatigue.
Except for the judges' typically drawn-out revelations about winners and losers, Frot-Coutaz and veteran executive producer Ken Warwick have picked up the pace, making episodes brisker and more engaging.
The jury still is out on the biggest move: songwriter Kara DioGuardi's addition to the judging panel. She's written for Gwen Stefani, Faith Hill and others and has demonstrated she has pipes as well.
Some "Idol" mavens expected juicy drama. Would DioGuardi try to depose Princess Paula Abdul amid post-feminist cat fights? Or, as the judges suggested before the premiere, might DioGuardi and Abdul join in a war of the sexes against Simon Cowell and Randy Jackson?
DioGuardi, who was given an early career boost by Abdul, has shown her mentor respect and sisterhood. The gender divide, however, has proved at least sporadically entertaining.
There was an early and colorful skirmish over a contestant who auditioned memorably in a skimpy bikini. She wore orange; the female judges saw red.
Last week, when Cowell suggested putting one blonde through to the semifinals over another based on his assessment of their looks, DioGuardi snapped back, "Why don't we just have a bunch of models?"
Cowell and Jackson signaled consideration of the idea.
DioGuardi herself is drawing early mixed reviews from fans.
"I did think, at first, that Kara was there to take Paula's place, but I am not seeing it," said Michele Smith of Westborough, Mass., who watches the show with daughter Kathryn, 9.
"We like Kara," says Smith. "She has a great professional background and I was impressed with her voice, too."
Viewer Mike Anderson of Yakima so far is unimpressed with DioGuardi.
"I thought when she went after (Bikini Girl) in the early prelims that she might … step up to be counted. She's going to have to step up or her impact will be minimal," Anderson said.
He's more upbeat about the singers themselves, spotting several "you can point to and say, 'Looks like Top 12 to me.' "
Local journalism is essential.
Give directly to The Spokesman-Review's Northwest Passages community forums series -- which helps to offset the costs of several reporter and editor positions at the newspaper -- by using the easy options below. Gifts processed in this system are not tax deductible, but are predominately used to help meet the local financial requirements needed to receive national matching-grant funds.
Subscribe to the Coronavirus newsletter
Get the day's latest Coronavirus news delivered to your inbox by subscribing to our newsletter.
---
Subscribe and log in to the Spokesman-Review to read and comment on this story