News > Features
Clooney dodges Hollywood glow
Thu., Feb. 26, 2009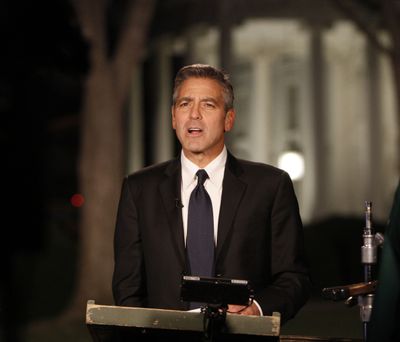 One of the faces that you might have missed at Sunday's Oscars broadcast was that of George Clooney.
Turns out the "Michael Clayton" star was meeting with President Barack Obama to tell him about the recent trip he'd made to the camps in Chad where a quarter-million Sudanese refugees are trying to exist.
But when asked about his experience by Larry King, Clooney declined to talk about any personal danger that he might have faced.
"I don't think people should be going there and coming back and saying how it affected them," Clooney told King via satellite from the White House lawn. "I think somehow we should all know that these people are hanging on by the skin of their teeth."
Clooney, who is a U.N. Messenger of Peace, said he delivered 250,000 postcards gathered by the Save Darfur organization to the president and Vice President Joe Biden.
News bright for 'Dark Knight'
Inflation comes in all forms. Christopher Nolan's "The Dark Knight" showed some inflation Hollywood-style when it recently became the fourth film to break $1 billion in worldwide box office. Warner Bros. says the film has grossed $1,001,082,160.
"Titanic" remains No. 1 worldwide with a $1.8 million gross, followed by "The Lord of the Rings: The Return of the King" ($1.1 million) and "Pirates of the Caribbean: Dead Man's Chest" ($1.06 million).
Paltrow puts the hip in hop
Glimmering Gwyneth Paltrow and her husband, Coldplay singer Chris Martin, are "becoming really close pals with Jay-Z and Beyoncé." The New York Post reports that the four have become so tight, "Gwyneth's kids call him 'Uncle Jay,' and she and Chris were special guests at Jay-Z's wedding."
Star couple expects good baby
It seems like only yesterday that Nicole Richie, 27, was giving birth to her daughter Harlow. Now, 13 months later, she and husband Joel Madden, 29, of the band Good Charlotte say they are expecting a second baby.
Calling Perez Hilton … ?
The New York Post has fired legendary gossip columnist Liz Smith, 86. Smith, whose work has appeared in a New York City paper for the past 33 years, says the Post dropped her $125,000-annual contract because of economic woes. Her final column appears today.
"It'll put them right in the black," Smith said. "They're only losing $30 million a year."
Quotable quote
"We're going on to this next gig, and sometimes I read that it's time for Conan to grow up because he's going to 11:30, and I assure you that's just not going to happen." That's Conan O'Brien, during Friday's final broadcast of his late show. On June 1 he takes over "The Tonight Show" from Jay Leno.
The birthday bunch
Singer Fats Domino is 81. Guitarist Paul Cotton of Poco is 66. Actor-director Bill Duke is 66. Singer Mitch Ryder is 64. Keyboardist Jonathan Cain of Journey is 59. Singer Michael Bolton is 56. Actor Greg Germann is 51. Singer Erykah Badu is 38. R&B singer Rico Wade of Society of Soul is 37. Singer Kyle Norman of Jagged Edge is 34. Singer Corinne Bailey Rae is 30. Actress Taylor Dooley is 16.
Local journalism is essential.
Give directly to The Spokesman-Review's Northwest Passages community forums series -- which helps to offset the costs of several reporter and editor positions at the newspaper -- by using the easy options below. Gifts processed in this system are not tax deductible, but are predominately used to help meet the local financial requirements needed to receive national matching-grant funds.
Subscribe to the Coronavirus newsletter
Get the day's latest Coronavirus news delivered to your inbox by subscribing to our newsletter.
---