News > Features
Stones fall from same cluster
Sat., Feb. 28, 2009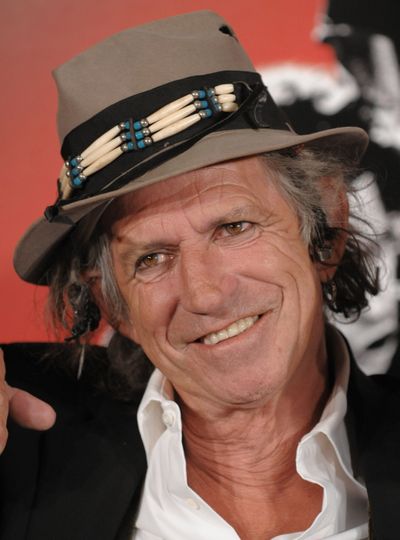 We're come to expect weird behavior from our rock-star celebrities.
Phil Spector and Ted Nugent indulge their obsessions with guns, Marilyn Manson wears his weirdness as a badge, and let's not even get started on Courtney Love or Ozzie Osbourne.
But Keith Richards always has been a standing headline for particularly weird behavior. Remember his contention – a "joke," he later claimed – that he'd once snorted his dead dad's cremated ashes?
Well, turns out the guitar doesn't fall too far from the amplifier. According to several sources, Robert Greenfield is coming out with a bio of Richards titled "A Day in the Life" that, the New York Post reports, tells tales of the rocker's son with Anita Pallenberg.
Greenfield quotes Richards amigo Charley Weber as saying that, as a child, Marlon Richards (who was born in 1969) was "a bit wild. He would eat ants, and Keith would say, 'He wants to eat … ants? No problem, man. Let him eat what he wants.' "
Oh, and Thanksgiving must have been a great treat for guests stopping by the Richards house.
"Marlon would put his hand into the butter in the middle of the big dinner table and eat it," Weber said, "and Keith loved it."
New Hood enters the arena
Ridley Scott is reteaming with his "Gladiator" buddy, Russell Crowe, to do another adaptation of the Robin Hood story. Now comes word from VideoETA.com that Cate Blanchett, the Academy Award winning actress who twice played Queen Elizabeth on film, has been cast as Maid Marian.
Scott original intent, it seems, was to have Crowe play both the roles of Robin Hood and the Sheriff of Nottingham.
Abdul to world: 'Never mind!'
Yes, Paula Abdul told OK! magazine that four judges on "American Idol" "doesn't work" since it "slows down the pace of the show." But she wasn't trying to insult newcomer Kara DioGuardi. Abdul told "Entertainment Tonight" that her remark – of course! – was "taken completely out of context."
"I was actually referring specifically to the use of 'guest judges' in seasons past," Abdul said, "not Kara." All righty, then.
French makes Clint's day
The French seem to love Clint Eastwood. On Wednesday, Cannes Film Festival president Gilles Jacob gave the trademark American filmmaker/star a special Palme d'Or. The honor means to reward "the talent of a grand master at the summit of his craft." Eastwood' reaction was typically brief: "I'm very flattered."
French honor Hoffman, too
The French also love Dustin Hoffman. On Thursday, French Culture Minister Christine Albanel honored the teary-eyed actor by making him an honorary commander in France's National Order of Arts and Letters.
Hoffman explained: "When you get to my age, you cry at the weather reports," he said.
The birthday bunch
Actor Charles Durning is 86. Actor Gavin MacLeod is 78. Actor-director-dancer Tommy Tune is 70. Actress Bernadette Peters is 61. Actress Mercedes Ruehl is 61. Comedian Gilbert Gottfried is 54. Actor John Turturro is 52. Actress Rae Dawn Chong is 48. Actor Robert Sean Leonard is 40. Actor Bobb'e J. Thompson is 13.
Local journalism is essential.
Give directly to The Spokesman-Review's Northwest Passages community forums series -- which helps to offset the costs of several reporter and editor positions at the newspaper -- by using the easy options below. Gifts processed in this system are not tax deductible, but are predominately used to help meet the local financial requirements needed to receive national matching-grant funds.
Subscribe to the Coronavirus newsletter
Get the day's latest Coronavirus news delivered to your inbox by subscribing to our newsletter.
---
Subscribe and log in to the Spokesman-Review to read and comment on this story