Sports
Huskies expose Cougars' flaws
Sun., Jan. 4, 2009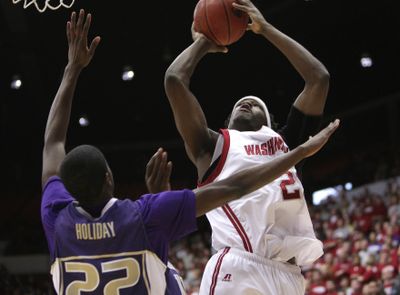 PULLMAN – The sweat and grit of defense so purposefully rubbed into the finish of Washington State basketball over the past several seasons had a curious, perhaps even intentional side effect.
The Cougars' offense – both its general efficiency and the uncanny constant of coming up with the bucket of truth – often went underrated.
This is no longer a problem.
New ones have cropped up in its place, however – all laid bare in the unsightly denouement of Washington's 68-48 rout of the Cougars at Friel Court on Saturday afternoon, a breakout the Huskies celebrated as if they'd punched their way through the ice and crust of a bermed-in driveway.
"A lot of weight has been lifted from our shoulders," said forward Quincy Pondexter, who did much of the heavy lifting.
He also happened to be the trailing dunker when, as the Huskies romped away by 20, Justin Dentmon passed up a breakaway layup to flip a pass off the glass with 56 seconds left – a bit of clueless but also harmless showboating that Cougs everywhere are already tut-tutting from molehill into Mount Everest.
UW coach Lorenzo Romar called timeout shortly thereafter, he said, to inform his players, "That's not what we do." He might have added, "Act like you've been there before."
Except, of course, that against Wazzu, none of these Huskies had.
A streak of seven straight Cougar victories in the series came to an end Saturday, a point of particular embarrassment to the Husky program, which had begun to think of itself as the hot new number in Northwest basketball – only to freefall into a funk that bottomed out last year when Washington bought itself a home game in a third-tier postseason event and then lost even that.
Romar claimed that a road victory in a tough environment trumped any internecine gratification, and his poker face might have sold the bluff at the beginner's table.
"But this is someone who's had their way with us," he would eventually allow.
And Saturday, the Huskies had their way.
They abused Wazzu on the boards, shot 60 percent when it was winning time – the first 10 minutes of the second half – and played the kind of smart, tempered game that has been a complete stranger to them the past couple of seasons. This was never more obvious than when the Cougars cut the lead to five points with 9 1/2 minutes to play. The Huskies pushed it right back to 10 with a Dentmon 3 and a putback dunk by Darnell Gant – and then all but took the air out of the ball.
"We felt if we got up 10 points, we're going to play like them," said guard Isaiah Thomas. "Slow it down. The clock's on our side."
This would be the place to insert a remark about something freezing over, except that it already had.
These may or may not be the new Huskies – even Romar demurred that "a game like this would confirm it up to this point – who knows what happens next game?" But for the Cougars, it's beginning to look like what you see is pretty much what you're going to get.
Limited offense, sometimes to a painful extreme – like the extreme that produced just three baskets after the deficit was cut to five. A capable big man who never seems to get enough touches but will be continually swarmed when he does. A promising freshman scorer still trying to find himself. A tough and willing senior point guard who saw the best part of his game graduate with last year's seniors. And a group of solid veterans who complemented those departed players well – but may not be anything more than that.
In this now-ended streak, the Cougars always managed to overcome some aspect of UW's game that probably should have tipped the balance – the Dawgs' inevitable edge on the glass, their superior athleticism, big nights by the bullish Jon Brockman or, before him, the graceful Brandon Roy. Often as not, it was by taking care of the ball and shooting better than 50 percent – that underrated offense again.
But now?
"Our style has to be real sound," said coach Tony Bennett. "We can't have big lapses. When they add up, it's hard for us to crawl back. It's hard for us to score and do things. When we get down by a lot, some teams have that ability – maybe it's firepower – to get it back quicker. It's a little harder for us that way."
It's harder still when the Cougars don't play defense as efficiently, either – the 3s that Dentmon was able to knock down were only vaguely contested.
It's an offensive problem because the Cougars don't have enough to recover from a brief defensive blackout, and a defensive problem because, well, at Wazzu it all goes back to defense.
"We get more out of our defense than we do out of our offense on a regular basis," said forward Caleb Forrest, who noted that the Cougars' margin for error seems to be thinner than ever.
"At the same time, if we do get things working offensively the way Coach has in mind, where we work together and trust each other, it'll get bigger."
For the moment, however, they can only aspire to be underrated.
Local journalism is essential.
Give directly to The Spokesman-Review's Northwest Passages community forums series -- which helps to offset the costs of several reporter and editor positions at the newspaper -- by using the easy options below. Gifts processed in this system are not tax deductible, but are predominately used to help meet the local financial requirements needed to receive national matching-grant funds.
Subscribe to the sports newsletter
Get the day's top sports headlines and breaking news delivered to your inbox by subscribing here.
---
Subscribe and log in to the Spokesman-Review to read and comment on this story