News > Idaho Voices
Estate of 'Wheat King' filled entire North Side block
Thu., Jan. 8, 2009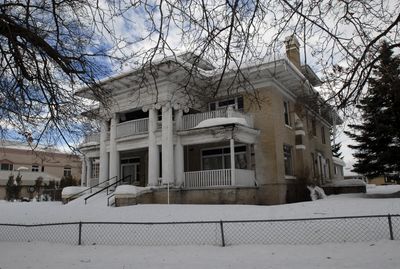 When the mining and banking and railroad magnates were building their elegant homes in Spokane's Browne's Addition and South Hill neighborhoods, wheat farmer Luther P. Turner decided to build his estate on Spokane's near North Side, on a plateau overlooking the Spokane River.
The home, completed in 1917, occupied an entire city block and included room for a large two-car garage and a small barn, the latter being something not seen in the more exclusive areas of town. But then, the man known as the "Wheat King of the Inland Northwest" had his own style, and if he wanted some farm animals at his estate, then that's what he'd have.
The 2 1/2-story Luther P. Turner home at 1521 E. Illinois Ave. now occupies about half its original space, but it still stands as a grand example of neoclassical architecture with its pair of triple 20-foot-tall wood Ionic columns with elaborate scrolled volutes. The first-level porch deck is bordered by wood balustrades with turned wood balusters, and the buff-colored original brick exterior has held up well. In its heyday, the home had oak or fir strip floors, French doors with stained glass panels and elegant tile ceilings.
It is listed on the Spokane Register of Historic Places.
Turner was born in 1862 in Tennessee, where he was raised by his Civil War-widowed mother. He came to the Palouse area in the late 1880s, and by 1904 had acquired 4,000-plus acres near Harrington. Before long he and his family farmed more than 10,000 acres, with one newspaper account noting that his five combines (each operated by five men and pulled by 24 to 34 horses or mules) took 40 days to harvest his wheat crop, a yield of 30 to 45 bushels per acre, all stored in his own warehouses.
Turner moved into Harrington and then to Spokane, where his home was estimated to cost between $28,000 and $40,000. It was designed by architect J.R. Burrill, who is credited also with designing many early commercial buildings in Harrington, including the Harrington Bank Block and Harrington Opera House.
Turner died in 1943, and the house was sold two years later. Elizabeth M. Davis converted it into a nursing home, sub-dividing the interior into smaller rooms, adding a covered wheelchair ramp and an extension to cover a new kitchen.
Later it was operated as the St. Jude Health Care Center and then in 1991 the Loganhurst Health Care Center. The 45 residents moved into a new facility right next door in 1999, and before its closure not long after, Turner house was operated as a multifamily dwelling.
In 2002 Loganhurst LLC took over both properties and Jim Delegans, Loganhurst LLC manager, and his wife, Fay, moved in to Turner house, where they have been refurbishing the building ever since.
"We've been chipping away at it for five years," Delegans said. "We're removing all the nonstructural partitions, restoring the original ceilings and at some point plan to put it back into service as an adult family home."
Local journalism is essential.
Give directly to The Spokesman-Review's Northwest Passages community forums series -- which helps to offset the costs of several reporter and editor positions at the newspaper -- by using the easy options below. Gifts processed in this system are not tax deductible, but are predominately used to help meet the local financial requirements needed to receive national matching-grant funds.
Subscribe to the Coronavirus newsletter
Get the day's latest Coronavirus news delivered to your inbox by subscribing to our newsletter.
---
Subscribe and log in to the Spokesman-Review to read and comment on this story