News > Nation/World
Treasury nominee explains tax errors
He paid money he owed after learning of slip-ups, Geithner says
Wed., Jan. 14, 2009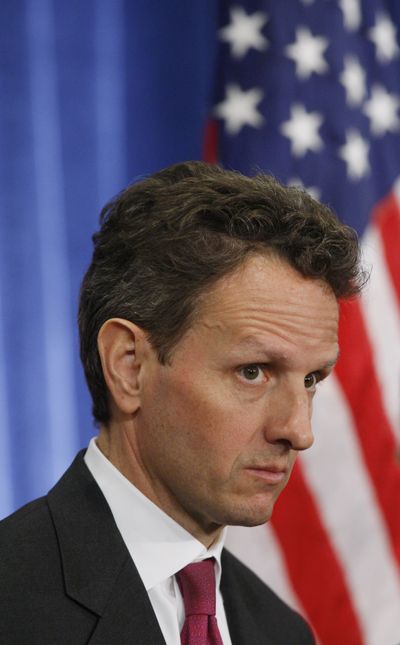 WASHINGTON – Timothy Geithner, the man tapped to lead the nation out of the greatest economic crisis in decades – and who would oversee the Internal Revenue Service – trekked to Capitol Hill on Tuesday to explain to senators how he made almost $43,000 worth of mistakes on his own tax returns.
Geithner appeared before members of the Senate Finance Committee to argue that a series of mistakes on his tax returns early this decade were unintentional and that he has since paid back the $42,702 he owed, including interest.
There was little evidence Tuesday that Geithner's errors, which included a related disclosure about a housekeeper who briefly worked for him without proper employment documentation, would derail what has been a smooth confirmation process. Geithner currently serves as the president of the New York Federal Reserve Bank.
But the revelations could delay consideration of Geithner's nomination. Late Tuesday, Republican Sens. Jim Bunning, R-Ky., and Jon Kyl, R-Ariz., blocked a request to proceed with his confirmation hearing Friday. Democratic lawmakers still hoped to confirm Geithner to the critical economic post before Inauguration Day.
Geithner told the committee that he had failed to pay Social Security and Medicare taxes because he mistakenly believed that his employer at the time, the International Monetary Fund, was already regularly deducting those taxes from his paycheck.
Several senators from both parties quickly came to Geithner's defense, saying in interviews Tuesday that the mistakes were common and innocent and that his confirmation was not in jeopardy. Through an aide, Senate Finance Committee Chairman Max Baucus, D-Mont., called Geithner's errors "serious" but said they do not disqualify him from being Treasury Secretary.
"I still support him. I have no problem," Republican Sen. Orrin Hatch told Fox News. "He's a very, very competent guy."
Senate Minority Leader Mitch McConnell, R-Ky., said he would defer judgment while Finance Committee members review a staff investigation. "The committee's taking a look at it," McConnell said.
Local journalism is essential.
Give directly to The Spokesman-Review's Northwest Passages community forums series -- which helps to offset the costs of several reporter and editor positions at the newspaper -- by using the easy options below. Gifts processed in this system are not tax deductible, but are predominately used to help meet the local financial requirements needed to receive national matching-grant funds.
Subscribe to the Coronavirus newsletter
Get the day's latest Coronavirus news delivered to your inbox by subscribing to our newsletter.
---