News > Nation/World
Jet's engine pulled from Hudson River
Sat., Jan. 24, 2009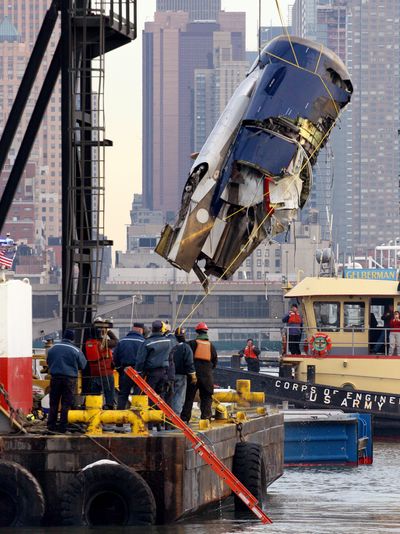 NEW YORK – The battered, twisted left engine of the US Airways plane that crash-landed in the Hudson River was recovered Friday, after an eight-day struggle to find the wreckage and pull it from the murky water.
Using a large, floating crane, salvage crews gently set the engine on a barge. Shards of metal and wiring hung from the engine, and a large portion of the outer shell appeared to be missing as it was lifted from the river bottom, 65 feet below the surface.
Immediately after the engine was set down, National Transportation Safety Board investigators began documenting and photographing it as part of their probe into the plane's remarkable landing.
New York Police Department and New Jersey State Police harbor officers working with a federal sonar expert on Tuesday located an object 16 feet long and 8 feet wide on the river floor, near where Flight 1549 made its emergency landing Jan. 15. Divers confirmed Wednesday that the object was the Airbus A320's engine.
The Charlotte, N.C.-bound plane splashed down in the river after hitting a flock of birds. All 155 people on board survived.
Local journalism is essential.
Give directly to The Spokesman-Review's Northwest Passages community forums series -- which helps to offset the costs of several reporter and editor positions at the newspaper -- by using the easy options below. Gifts processed in this system are not tax deductible, but are predominately used to help meet the local financial requirements needed to receive national matching-grant funds.
Subscribe to the Coronavirus newsletter
Get the day's latest Coronavirus news delivered to your inbox by subscribing to our newsletter.
---