News > Spokane
Drumming group keeps up tradition
Spokane Taiko rehearsing for performance at Japan Week festival, coming up in April
Sun., Jan. 25, 2009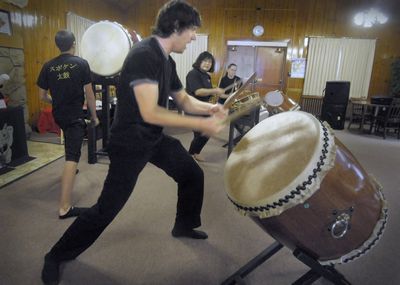 Spokane Taiko, a traditional Japanese drumming group, had more members than drums when it was formed in 1997. Some of the two-dozen members had to practice on old tires.
"We didn't have enough drums to practice, but the enthusiasm was so high," said Atsumi McCauley, who co-founded the group with Michiko Takaoka, the now-retired director of the Japanese Culture Center at the Mukogawa Fort Wright Institute.
Enthusiasm was still high Saturday, but the group had more drums than drummers as it practiced for the opening ceremony of Spokane's Japan Week festival in April.
McCauley filled in on the little "shime" (pronounced shi-may) drum that plays a key role at the beginning and end of songs and gives other drummers their timing.
"It's essentially the metronome," said Jenna-Rae Zabel, one of the group's longtime members.
Zabel, 24, and Walter Welch, 25, played the middle-size "jozuke" drums while 14-year-old Ryan Miller beat the "odaiko."
That's Japanese for "big drum." Language teacher McCauley said "o" means big, "taiko" means drum and, when you put them together the "t" changes to "d."
Although the group's youngest performer, Miller is one of its most experienced drummers. He joined an Emeryville, Calif., taiko group at age 7 after being inspired by a performance.
Spokane Taiko had never accepted a performer younger than 18, but Miller's parents, Todd Miller and Rowena Pineda, appealed to the late Ed Tsutakawa. The informal patriarch of Spokane's Japanese community persuaded the drumming group to give Miller a chance.
"We had never accepted anybody under age 18, but we learned a lot from a 10-year-old student," McCauley said.
Miller is a freshman at Lewis and Clark High School, while Welch and Zabel are former students who now work as a waiter and a baker, respectively. A friend in a Japanese language class at Spokane Falls Community College invited Welch to join, and Welch invited Zabel.
Welch said he sat in on a Spokane Taiko session five to seven years ago – "I don't have a real good sense of time" – and he's been drumming ever since.
Zabel, who came from Columbia, Mont., in 2002 to study music, recently acquired a traditional Japanese bamboo flute and has been working the instrument into the group's performances.
Spokane Taiko couldn't afford a Japanese-made drum when it got started – still can't, for that matter. But they hired a Seattle craftsman to make one from an oak whisky barrel with a $1,500 Japan Foundation grant.
The $4,000 odaiko, also made in Seattle, and six jozuke came later. And professionally made hardwood drumsticks, called "bachi," eventually replaced sticks made from ordinary dowels.
But many of the two dozen original drummers drifted away, and the group now has only a half-dozen members – a cause for concern to McCauley.
Saturday's rehearsal included some of the four or five songs Spokane Taiko will perform for the April 18 opening ceremony to kick off Japan Week. The event will be in the atrium of the downtown River Park Square mall.
The rehearsal began with a song called "Ogi," named for a Japanese coastal city. It was an energetic "ki-ai," or "spirit shout," punctuated with a shouted exclamation, "So-re!" Next came a more light-hearted song called "Matsuri," or "Festival."
In some ways, the songs represent the development of taiko drumming. McCauley, who grew up in Japan, said taiko drumming began as a call to arms for samurai warriors. The bigger and louder the drums, the more powerful the warriors felt.
Later, McCauley said, taiko drumming evolved into a traditional art associated with festivals and other community events.
Like Japan Week.
Local journalism is essential.
Give directly to The Spokesman-Review's Northwest Passages community forums series -- which helps to offset the costs of several reporter and editor positions at the newspaper -- by using the easy options below. Gifts processed in this system are not tax deductible, but are predominately used to help meet the local financial requirements needed to receive national matching-grant funds.
Subscribe now to get breaking news alerts in your email inbox
Get breaking news delivered to your inbox as it happens.
---