Sports
Huskies alone atop Pac-10
Sun., Jan. 25, 2009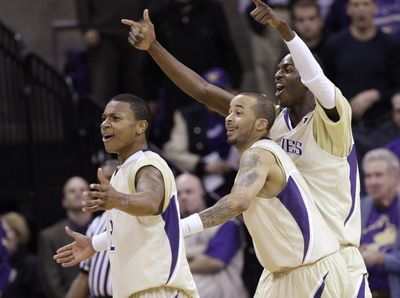 SEATTLE – Justin Dentmon sat for the majority of the game because of fouls. Instead of sulking, he soared – and lifted surprising Washington with him to the top of the Pac-10.
Dentmon returned from 23 minutes of idling to spark the decisive late run and freshman Isaiah Thomas scored 24 points to lead the resurgent Huskies to an 86-75 victory Saturday over 13th-ranked UCLA – and give the conference a new leader.
Jon Brockman rebounded from having zero field goals on Thursday to score 18 points and add eight rebounds for Washington (15-4), which won for the 13th time in 14 games to claim sole possession of the Pac-10 lead for the first time since January 2005.
"It put us up on top of the conference for today and so yes, you can't get a bigger win than that," Washington coach Lorenzo Romar said.
These go-go Huskies, the conference's highest-scoring team, now have slashing guards to complement the pounding Brockman after having missed the NCAA tournament the past two seasons. They scored more points than anyone had this season against the rugged Bruins to win for the fifth consecutive time over UCLA in Seattle.
"This is a very good team that beat us today," UCLA coach Ben Howland said.
Washington is 6-1 in the conference for the third time in 25 years.
"It's a great feeling," Brockman said. "But there's a lot of league season left."
Josh Shipp scored a career-high 25 points but went scoreless for more than nine minutes of the second half for the Bruins (15-4, 5-2 Pac-10), who lost for the second time in three games. He isn't about to concede UCLA's conference reign, either.
"We'll see at the end of the Pac-10," Shipp said when asked if Washington was now the equal of UCLA.
Dentmon finished with 16 points in just 17 minutes. Ten of those points came after he returned with 4:59 left from being on the bench for eight minutes with four fouls.
Darren Collison, who finished with 12 points, made two free throws to draw the Bruins within 67-66 with 6:13 remaining. But the Huskies scored the next 12 points, eight by Dentmon.
Local journalism is essential.
Give directly to The Spokesman-Review's Northwest Passages community forums series -- which helps to offset the costs of several reporter and editor positions at the newspaper -- by using the easy options below. Gifts processed in this system are not tax deductible, but are predominately used to help meet the local financial requirements needed to receive national matching-grant funds.
Subscribe to the sports newsletter
Get the day's top sports headlines and breaking news delivered to your inbox by subscribing here.
---