News > Features
Spokane Opera will open Mozart's 'Magic' tonight
Classic runs this weekend at the Fox
Thu., Jan. 29, 2009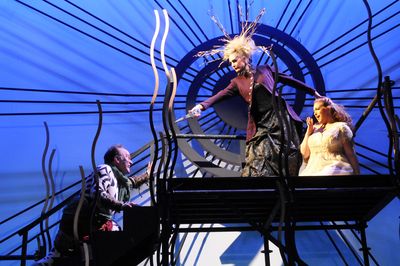 Mozart's "Magic Flute" takes a special place in the composer's life. It was the last opera he finished, and the last to be produced in his lifetime.
Spokane Opera will present three performances of "The Magic Flute" at the Martin Woldson Theater at the Fox, tonight, Friday and in a family matinee Saturday.
The matinee is a condensed version, with special ticket pricing for families (see "if you go" box).
The cast includes coloratura soprano Alexandra Picard as The Queen of the Night; bass Derrick Parker as her arch-rival, Sarastro; tenor Noah Baetge and soprano Heather Parker as the noble loves Tamino and Pamina; baritone Morgan Smith and soprano Dawn Wolski as the rustic lovers Papageno and Papagena; and Tim Campbell as the Queen's evil servant, Monostatos.
The opera will be sung in Andrew Porter's English translation. Dean Williamson will conduct.
"The Magic Flute" ("Die Zauberflöte" in German) has a tangled storyline with confusing turns. Barrels of ink have been spilled in books and articles attempting to determine exactly what kind of opera it is.
Is it a farce? A fairy tale? A philosophical fable?
"I think it is all those things," says Bill Graham, Spokane Opera's stage director. "I think it is important to remember where Mozart was in his life when he wrote this. Shortly after he finished it, he started writing the Requiem, then he died.
"With 'The Magic Flute' he was looking to go back to his Germanic roots because he'd spent a lot of time writing Italian opera," Graham says. "So Mozart and his friend and librettist Emanuel Schickaneder put together something that combined all kinds of ingredients from popular musical theater and serious opera."
The story tells of a prince, Tamino, who falls in love with the portrait of Pamina, a princess he has never met. He falls in with a featherbrained bird-catcher, Papageno.
And on orders from the princess' mother, the Queen of the Night, they set out to rescue the princess from the presumably evil Sarastro.
After many trials, Tamino is united with Pamina. Papageno meets his soul-mate Papagena. And evil is destroyed and good reigns.
Oh, yes, there's a threatening serpent and dancing animals, too.
"We last did 'The Magic Flute' in 1993, and we thought it was time for a Mozart opera," Graham says. "And our opera choices and casting look to bring back singers who have done well in the past, as well as introducing new singers. We've been able to do both with this 'Magic Flute.' "
Returning singers include the Parkers, who have had a regular association with Spokane Opera. Heather grew up in Spokane, attended Whitworth University and sang in Spokane Opera productions before continuing her training at New York's Eastman School of Music, where she met Derrick, who became her husband.
"We are really pleased that Noah Baetge, the tenor we hired to sing Tamino, won the regional Metropolitan Opera auditions in Seattle as our rehearsals were under way," Graham says.
"He will be going to New York for the finals in March. So we may be introducing a new Met star to Spokane."
Picard, the production's Queen of the Night, is also new to Spokane. Born in New York, the Harvard graduate lives in Seattle, where she has sung with the Seattle Opera and studied with Jane Eaglen.
Smith, who sings the role of Papageno, grew up in White Plains, N.Y., is a graduate of Columbia University and the Mannes College of Music, and has sung with opera companies in San Francisco, Seattle and Portland as well as in engagements with major orchestras in the United States.
Wolski, who portrays Papagena, is well-known to local audiences though her performances with such groups as the Spokane Symphony, the Spokane String Quartet and Allegro. She was a winner in Russia's 2008 Zara Dolukhanova International Art Song Competition.
Conductor Williamson has regularly led Spokane Opera productions. He was a rehearsal pianist and vocal coach for Seattle Opera and headed its Young Artist program before becoming music director of Opera Cleveland.
Choreography for the opera's dances was arranged by Ballet Spokane's Phaedra Jarrett.
The impressive set, from Eugene Opera's 2007 production of the opera, has a stylized forest look with star-like elements that echo some of the art-deco designs in the Fox auditorium and lobby.
"Their technical director came to off-load the set onto the Fox stage, and he said, 'It's almost as though we designed it for your theater,' " Graham says.
Costumes come from the Utah Opera's 2006 performances.
Local journalism is essential.
Give directly to The Spokesman-Review's Northwest Passages community forums series -- which helps to offset the costs of several reporter and editor positions at the newspaper -- by using the easy options below. Gifts processed in this system are not tax deductible, but are predominately used to help meet the local financial requirements needed to receive national matching-grant funds.
Subscribe to the Coronavirus newsletter
Get the day's latest Coronavirus news delivered to your inbox by subscribing to our newsletter.
---