Sports
Lagat pursues Coghlan's mark
Ex-Coug aims for 7th Wanamaker Mile
Fri., Jan. 30, 2009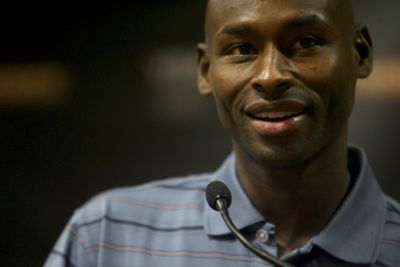 Bernard Lagat dealt with the pain of his disappointing finishes at the Olympics before he left Beijing. It took longer to deal with the pain in his left Achilles tendon.
"The good news is that I have taken care of my foot," said Lagat, who was expected to win a medal in Beijing but was eliminated in the semifinals of the 1,500 meters and took ninth in the 5,000. He was hampered by Achilles problems that began after he won both events at the U.S. Olympic trials.
He resumed training Nov. 1.
"I haven't had any problems with my Achilles I'm happy to say right now."
Lagat, a native of Kenya who became a U.S. citizen in 2004, will be even happier today if he opens his indoor season with a win in the Wanamaker Mile at the 102nd Millrose Games at New York's Madison Square Garden.
A win would give Lagat, 34, seven Wanamaker titles, tying the record held by Eamonn Coghlan of Ireland, known as the "Chairman of the Boards" for his indoor successes on the wooden track.
"We joked a little bit," Lagat said of talking with Coghlan. "If I win my seventh, I'll be Co-chairman of the Boards. If I came back in 2010 and win the eighth one, I'll be the president."
To win, Lagat will have to beat New Zealand's Nick Willis, third in the 1,500 at the Beijing Games.
"I know he's going to be the one giving me a hard time," Lagat said. "He's confident. If I win this one, I think it will be my hardest … Millrose win."
Coghlan, 56, was only joking when he said at a Wednesday news conference in New York that he would speak to Irish brethren among the Garden carpenters to loosen the boards in the turns to undermine Lagat.
Coghlan expects Lagat to win.
"I'm honored and delighted he has enough respect as a great middle-distance champion outdoors to pursue the Wanamaker Mile because he wants to be a part of the history. Other middle-distance champions wouldn't consider the Wanamaker Mile a big deal."
Lagat has two Olympic medals – a silver in the 1,500 in 2004 and bronze in 2000. He was the 2007 world champion in the 1,500 and 5,000.
He paid tribute to Coghlan, who held the world indoor mile record (3:49.78) for 14 years. Coghlan also won the 1983 world title in the 5,000 and is the only person older than 40 to break 4 minutes in the mile.
"If I can be on the same page as Eamonn Coghlan, it will mean a lot for me," Lagat said.
Both came from overseas to American universities – Villanova for Coghlan, Washington State for Lagat – and were savvy, exciting racers.
"He was a lot smoother than I was both in arm action and legs," said Coghlan, who won his last Wanamaker in 1987. "He would have had much better rhythm. The one part of our styles that would be similar is that he has the ability to make a decisive move off the turn very quickly. He has the ability not to panic on a tight, 11-laps-to-the-mile track and make that one move at the right time."
Local journalism is essential.
Give directly to The Spokesman-Review's Northwest Passages community forums series -- which helps to offset the costs of several reporter and editor positions at the newspaper -- by using the easy options below. Gifts processed in this system are not tax deductible, but are predominately used to help meet the local financial requirements needed to receive national matching-grant funds.
Subscribe to the sports newsletter
Get the day's top sports headlines and breaking news delivered to your inbox by subscribing here.
---