News > Features
One more vote for 'Slumdog'
Fri., Jan. 30, 2009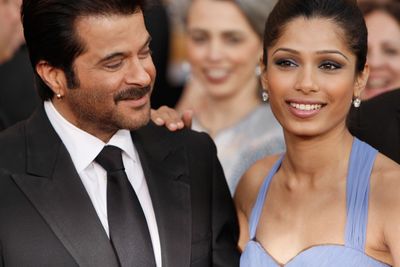 New York gossip columnist Cindy Adams thinks she has the inside dope on the upcoming Oscars broadcast, set for Feb. 22.
According to Adams, "the money's on":
Best Picture: "Slumdog Millionaire" (starring the beautiful Freida Pinto).
Best Actor: Sean Penn for "Milk."
Best Actress: Kate Winslet for "The Reader."
Best Supporting Actress: Penelope Cruz for "Vicky Cristina Barcelona."
And in the traditionally tough Best Supporting Actor category: Heath Ledger for "The Dark Knight."
Adams, who writes for the New York Post, seemed to begrudge Ledger the award over the "brilliant work" of Josh Brolin ("Milk") and Michael Shannon ("Revolutionary Road") and of "brilliant" Robert Downey Jr. ("Tropic Thunder").
"It's what They are saying," Adams wrote. "Not necessarily me – They."
Everyone has hobbies, right?
What's the true story behind Joaquin Phoenix's recent rap show in Las Vegas, the one folks are calling – charitably – a disaster and was filmed by friend and fellow movie star Casey Affleck? Here's Phoenix's own take: "It's a put-on," he told EW.com. "I'm going to pretend to have a meltdown and change careers, and Casey is going to film it."
'Star,' thy name is Osmond
NBC isn't confirming it, but Donny Osmond, says he's going to follow his sister, Marie Osmond, on "Dancing With the Stars."
"I'll say I am seriously considering doing" the show, Donny said during a taping of the "Bonnie Hunt Show. "I can't let my sister upstage me. Besides, who do you think taught her how to dance?"
Clancy goes digital
Author Tom Clancy wants to make it easier for you to read his novels. The author of such blockbusters as "Patriot Games" and "Clear and Present Danger" plans to make his work available electronically, starting Feb. 3 with his 1984 novel, "The Hunt for Red October."
Or is it bad news/good news?
Good news and bad news for Lara Croft: Tomb Raider fans. The good news: There will be a third installment of the film series. The bad: Angelina Jolie won't return as the I-Am-Woman-Hear-Me-Roar action character. Word is that Megan Fox ("Transformers") will take her place.
And from the fashion world …
The inaugural gown that Jason Wu designed, worn by Michelle Obama, is headed to the Smithsonian, says the Washington Post.
Quotable quote
"The best solution to lost love is new love": Hugh Hefner, commenting on replacing his Playboy Mansion trio of Holly Madison, Kendra Wilkinson and Bridget Marquardt with blond-tressed twin sisters Karissa and Kristina Shannon and Crystal Harris.
The birthday bunch
Actor Gene Hackman is 79. Actress Vanessa Redgrave is 72. Country singer Jeanne Pruett is 72. Country singer Norma Jean is 71. Singer Marty Balin of Jefferson Airplane/Jefferson Starship is 67. Musician Phil Collins is 58. Comedian Brett Butler is 51. Singer Jody Watley is 50. Actor Christian Bale is 35.
Local journalism is essential.
Give directly to The Spokesman-Review's Northwest Passages community forums series -- which helps to offset the costs of several reporter and editor positions at the newspaper -- by using the easy options below. Gifts processed in this system are not tax deductible, but are predominately used to help meet the local financial requirements needed to receive national matching-grant funds.
Subscribe to the Coronavirus newsletter
Get the day's latest Coronavirus news delivered to your inbox by subscribing to our newsletter.
---