News > Business
Mac sellers see bright future
Growing demand has sprouted two regional Apple storefronts
Thu., June 4, 2009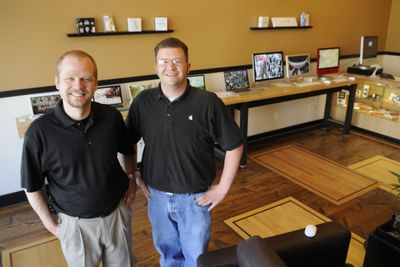 For most of 2008 the Spokane area had just one in-store retail seller of Apple Inc. products: Best Buy, the national entertainment chain that carried a limited array of Apple gear or software.
In 2009 the scent of Apples has filled two new area stores, prompting the question: Can this area support two competing stores devoted to selling and servicing Apple computers and entertainment products?
The first landed in Post Falls last December. It's part of the MacXprts group of Apple specialist retail stores, headquartered in Columbia, Mo.
And recently in Spokane, independently owned Strong Technologies opened a Mac products service center and store just east of downtown.
The reason for this burst of retail activity, according to Duane Burghard, the chairman of MacXprts who has guided its growth from one to nine nationwide stores, is simple: "It's switchers. Just all those people switching from the PC to the Mac."
Several years ago the Apple share of the computer market was around 5 percent. Today it's close to double that figure and growing. Burghard says the switching has been motivated by the highly successful media campaign that comically pits the nerdish PC guy interacting with the hip and amiable Mac guy.
Jack-Daniyel Strong, the owner of Strong Technologies, expects to regain some of the business and personal computer users who were using either CompUSA or Mac Odyssey, a two-store chain with offices in Spokane Valley and Coeur d'Alene.
CompUSA closed its store in early 2008, and Mac Odyssey shut down both its stores by spring of 2008.
When those stores closed, Burghard said he knew someone else would move to fill the void in Spokane.
"We wanted to go into Spokane ourselves. And we will later," he said, adding that he tried to hire Strong himself to open a MacXprts Spokane location. Strong declined but didn't tell Burghard he would open his own Apple store.
Said Burghard: "J.D.'s a talented guy and I wish him well. But I know he knows this: I'm coming in with a store of our own (in Spokane)."
While many computer shoppers prefer buying products online, that's not always the case for the Apple crowd, said Sean McKenzie, who was hired this year as Strong's store supervisor.
"When people will be spending more than $1,000 on a computer, they want to look at it, touch it and feel it," said McKenzie, who was for one year the service department manager for the north Spokane Best Buy store.
"Especially with those who are switching to a new system, they want to come down and see what they're getting and see it in action."
Strong's route into Apple retailing goes back six years, when he launched J.D. Strong Consulting Inc., which provides consulting and tech services for business customers. It provides help for companies using either Mac or Windows computers.
A year and a half ago he started focusing on providing Apple products for area businesses.
It did so well that an Apple company representative asked Strong to branch into serving the consumer market in Spokane.
The two-story brick building that Strong Technologies bought as its office also is adding a classroom for classes on using the Mac operating system and Apple-specific tools like iPhoto, McKenzie said.
"That's one way we want to be a resource for the community," he said.
Local journalism is essential.
Give directly to The Spokesman-Review's Northwest Passages community forums series -- which helps to offset the costs of several reporter and editor positions at the newspaper -- by using the easy options below. Gifts processed in this system are not tax deductible, but are predominately used to help meet the local financial requirements needed to receive national matching-grant funds.
Subscribe to the Coronavirus newsletter
Get the day's latest Coronavirus news delivered to your inbox by subscribing to our newsletter.
---