Sports
Baseball notebook: GM explains McLouth deal
Mon., June 8, 2009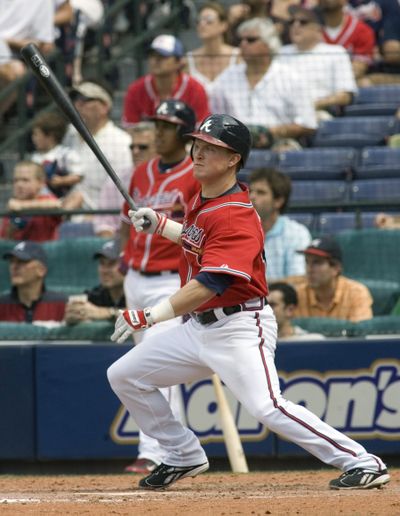 Pittsburgh Pirates general manager Neal Huntington wrote an open letter to the team's fans explaining the decision to trade center fielder Nate McLouth to the Atlanta Braves wasn't financially motivated.
The Pirates, who traditionally have one of the majors' lowest payrolls, are averaging a major league-low 16,588 in attendance. The low turnout is prompting speculation that the surprise McLouth deal last week was made to save money.
McLouth, the Pirates' lone All-Star last season, was traded for three prospects, only one of whom is considered to be close to reaching the majors. The trade enraged not only fans but the Pirates' players, with first baseman Adam LaRoche saying he didn't know of any player who wasn't unhappy.
Since last season, the Pirates have dealt their three most productive offensive players in Jason Bay, Xavier Nady and McLouth. The Pirates signed McLouth to a contract extension during the offseason.
The Pittsburgh Post-Gazette ran an editorial encouraging the ownership group to sell the team to owners who are more interested in winning. The paper wrote, "It's time Pittsburgh baseball had ownership worthy of the game."
The Pirates can set a major American pro sports record this year with a 17th consecutive losing season; no major league, NBA, NHL or NFL team has had a streak longer than 16 years.
Clearing the bases
Fresh off his 300th victory, San Francisco's Randy Johnson will start on three days' rest at Florida today against the Marlins. The 45-year-old left-hander threw only 78 pitches Thursday. Johnson is 6-1 in nine starts on three days' rest with a 2.84 ERA. … Baltimore outfielder Felix Pie is OK after he was hit in the throat by a foul ball Saturday. Pie underwent a CT scan on his throat and it showed no serious damage. … The Los Angeles Dodgers will allow fans to park for free during the team's June 16-18 series against the Oakland Athletics. Dodgers chief executive officer Jamie McCourt says the free parking offer is a way to make it easier for families to attend games; parking usually costs $15.
Local journalism is essential.
Give directly to The Spokesman-Review's Northwest Passages community forums series -- which helps to offset the costs of several reporter and editor positions at the newspaper -- by using the easy options below. Gifts processed in this system are not tax deductible, but are predominately used to help meet the local financial requirements needed to receive national matching-grant funds.
Subscribe to the sports newsletter
Get the day's top sports headlines and breaking news delivered to your inbox by subscribing here.
---
Subscribe and log in to the Spokesman-Review to read and comment on this story