Sports
Expect draft surprises
After No. 1 pick, class draws mixed reviews
Tue., June 9, 2009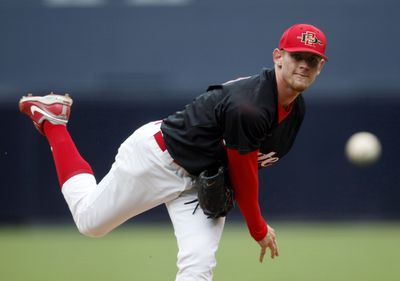 NEW YORK – With his 100 mph fastball, Stephen Strasburg has all but eliminated any mystery about which player will be picked first by the Washington Nationals in the baseball draft tonight.
Barring a big surprise, the suspense begins at No. 2.
"Oh, it's a terrific drop-off," Los Angeles Angels scouting director Eddie Bane said. "You don't want to admit that, but this guy, like everybody said, is a once-in-a-lifetime guy."
While Strasburg was striking out overmatched college hitters at San Diego State, major league teams spent the spring sorting through the best of the rest, including North Carolina slugger Dustin Ackley, Missouri right-hander Kyle Gibson and high school outfielder Donavan Tate.
New general manager Jack Zduriencik and the Seattle Mariners pick second, followed by San Diego, Pittsburgh and Baltimore.
But once Strasburg comes off the board, it's a fickle class of prospects that's drawn mixed reviews.
"I think it's a more unpredictable draft than any I've been involved with," Tampa Bay Rays scouting director R.J. Harrison said. "Usually it gets down to about the middle of the first round where you get the first 'oooh,' where they took that guy there. I think the ooohs and aaahs could start earlier."
Tampa Bay had the top pick each of the past two years, but the defending A.L. champions won't make their first selection today until No. 30.
Teams such as San Diego, Pittsburgh and Baltimore will be looking to snap up future stars who can help turn around their franchises, just as Tampa Bay did with a string of top-10 picks over the past decade.
"It's an opportunity to infuse new talent into the organization," said Mike Hill, general manager of the penny-pinching Florida Marlins. "Obviously for a club like us, it's very important."
And some of these kids aren't too far from the big leagues.
Gordon Beckham became the fourth member of last year's draft class to reach the majors when he was called up by the Chicago White Sox last week. David Price, Rick Porcello and Matt Wieters were all selected in 2007.
Maybe that's one reason the baseball draft seems to be gaining more attention. Only a few years ago, the entire event was held in near obscurity via conference call.
David Wright recalled hustling home from a high school exam and listening on the Internet as the Mets made him the 38th pick in 2001.
"Made it home just in time to hear my name called," Wright said. "Something I'll never forget."
Now, the top prospects can watch on television as the baseball draft goes prime time for the first time.
Local journalism is essential.
Give directly to The Spokesman-Review's Northwest Passages community forums series -- which helps to offset the costs of several reporter and editor positions at the newspaper -- by using the easy options below. Gifts processed in this system are not tax deductible, but are predominately used to help meet the local financial requirements needed to receive national matching-grant funds.
Subscribe to the sports newsletter
Get the day's top sports headlines and breaking news delivered to your inbox by subscribing here.
---
Subscribe and log in to the Spokesman-Review to read and comment on this story