News > Spokane
Staging the summertime games
July's wheelchair event will draw hundreds of competitors to city
Tue., June 9, 2009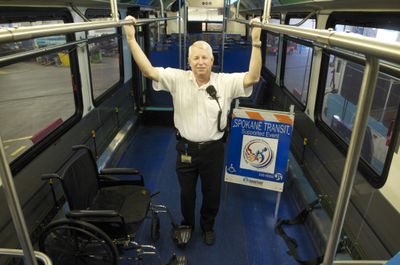 The world's largest annual wheelchair sporting event will roll into Spokane next month after strategic planning of military proportions.
It has taken 62 separate committees at Spokane Veterans Affairs Medical Center to prepare for the 29th National Veterans Wheelchair Games from July 13 to July 18.
"It has been a tremendous logistical accomplishment," said Dewey Guill, a VA employee and chairman of the logistics committee for the games.
Probably the most significant hurdle was planning transportation of 630 athletes – each with at least two wheelchairs – their coaches and their traveling companions from airport to hotels to 17 sporting events throughout the city.
"I didn't want them even thinking about transportation," said Guill. "I want them thinking about their event."
The games are sponsored by the U.S. Department of Veterans Affairs and the Paralyzed Veterans of America. Organizers at Spokane VA hope to recruit 3,000 volunteers. They have more than 1,600 so far, including 400 VA employees.
Fairchild Air Force Base has offered as many as 500 volunteers, including active duty, National Guard and Marine Reserve. Navy SeaBees will set up the competition sites.
Organizers also are getting big assists from the Spokane Transit Authority and United Parcel Service.
When athletes and their traveling companions land at Spokane International Airport, they will be greeted by one of 28 "lifters" – Washington Army National Guard members who will escort them from the gates to security checkpoints. Other volunteers will accompany them through the airport to STA buses fitted for paratransit.
The task of figuring out which wheelchairs and gear go to what hotel will fall to UPS.
Throughout the week, STA shuttles will run every 10 minutes from hotels to the Spokane Convention Center, which will serve as the games' hub and official meal site. Other shuttles will ferry spectators from parking lots at Gonzaga University and Washington State University's Spokane campus to event venues: the Convention Center, Riverfront Park, Spokane Falls Community College, Whitworth University, Lilac Lanes and North Lanes bowling, the Spokane Gun Club and Esmeralda Golf Course.
STA will set up a downtown staging area to accommodate bus traffic.
"This will in no way disrupt regular bus service," according to Monte DeChenne, one of two transportation supervisors STA has assigned to planning for the games.
DeChenne said STA has been in contact with Metro Area Transit in Omaha, Neb., where the games were held last year. "We've learned from their experience," DeChenne said.
Omaha's buses did not "kneel," hydraulically dropping to curb level, or come equipped with their own retractable ramps as Spokane buses do.
Two or three volunteers will ride on each bus to assist athletes getting on or off. On Thursday, these volunteers will gather at Spokane VA for training in safety procedures, chair operation and how to handle emergencies.
The opening ceremony of the Wheelchair Games will take place from 6 to 7 p.m. July 13 at the Spokane Veterans Memorial Arena, followed by a procession through Riverfront Park to the Convention Center.
Local journalism is essential.
Give directly to The Spokesman-Review's Northwest Passages community forums series -- which helps to offset the costs of several reporter and editor positions at the newspaper -- by using the easy options below. Gifts processed in this system are not tax deductible, but are predominately used to help meet the local financial requirements needed to receive national matching-grant funds.
Subscribe now to get breaking news alerts in your email inbox
Get breaking news delivered to your inbox as it happens.
---