Sports
Baseball notebook: No. 1 tag not intimidating
Thu., June 11, 2009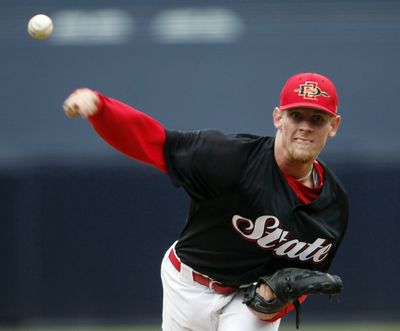 Relaxation is on Stephen Strasburg's agenda for the summer. History, apparently, is not.
Asked about the spotty success rate of No. 1 draft picks over the years, the latest to claim that mantle said Wednesday he's not inclined to learn from other people's mistakes.
"I'm sorry, but what would I learn from other top picks?" Strasburg said in a conference call with reporters. "Obviously, I watch guys that have made it to the big leagues. I don't plan on being the top pick and then not being successful in the big leagues."
The mega-hyped right-hander from San Diego State was selected Tuesday by the mega-bad Washington Nationals. Now comes a summer of negotiation and relaxation. The player will be the one doing the relaxing, while agent Scott Boras and the Nationals work out what is expected to be a record-setting contract.
"There's obviously a few places I'd like to go, and just relax this summer and have fun," Strasburg said.
Visiting hours end
There will be no more visits by Manny Ramirez to the Los Angeles Dodgers' clubhouse during media access periods for the remainder of his 50-game suspension.
Dodgers spokesman Josh Rawitch said the club received a "friendly reminder" from Pat Courtney, the No. 2 spokesman in the commissioner's office, that Ramirez wasn't allowed in the clubhouse when it is open to reporters.
Ramirez told reporters Tuesday: "I didn't kill nobody, I didn't rape nobody, so that's it. I'm just going to come and play the game."
Clearing the bases
Cleveland Indians outfielder Grady Sizemore is feeling better and will have an MRI on his strained left elbow on Monday. … Injured Tampa Bay Rays designated hitter Pat Burrell could rejoin the team this weekend and shortstop Jason Bartlett may be back early next week. … Alcohol was found in the woman who was driving Los Angeles Angels pitcher Nick Adenhart before they were both killed in a collision in April, according to toxicology tests. The tests show Courtney Stewart, 20, consumed alcohol shortly before the crash, but the coroner's office could not determine how much she drank, and prosecutors were doubtful the finding could be used at the trial of Andrew Gallo, the man charged with their deaths.
Local journalism is essential.
Give directly to The Spokesman-Review's Northwest Passages community forums series -- which helps to offset the costs of several reporter and editor positions at the newspaper -- by using the easy options below. Gifts processed in this system are not tax deductible, but are predominately used to help meet the local financial requirements needed to receive national matching-grant funds.
Subscribe to the sports newsletter
Get the day's top sports headlines and breaking news delivered to your inbox by subscribing here.
---
Subscribe and log in to the Spokesman-Review to read and comment on this story