News > Idaho
Amid health problems, some Northport residents look to Canadian smelter
Sun., June 21, 2009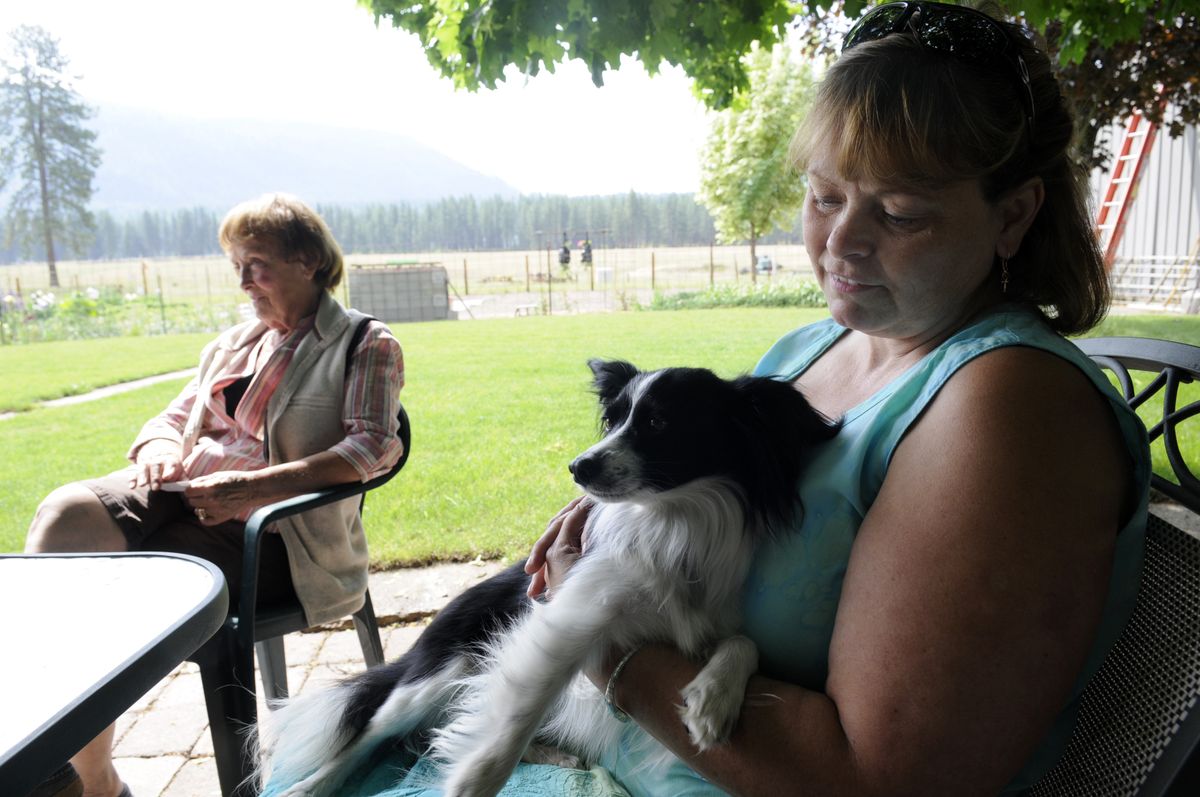 Julie Sowards, 52, sits with her mother, Rosemarie Phillips, left, at the family farm near Northport. (Jesse Tinsley / The Spokesman-Review)
NORTHPORT, Wash. – Julie Sowards' best childhood memories are tied to the Columbia River.
Leaning on a cane at the river's edge, the 52-year-old Northport woman recalled how spring floods created the "pothole," a swimming spot for local kids, in a sunken meadow on her parents' ranch. Sowards and her siblings scouted for arrowheads on the Columbia's banks. From sun-warmed rocks, they watched sturgeon in deep pools near the shore.
But Sowards also wonders if those idyllic experiences are linked to autoimmune diseases that robbed her of her muscular strength, her short-term memory and, ultimately, her colon. Her parents' ranch lies about 15 miles downstream from Teck Resources Ltd.'s lead smelter in Trail, B.C.
For nearly a century, the smelter dumped 400 or more tons of slag, a byproduct of metal refining, into the river each day. The granular slag that created the Upper Columbia River's black sand beaches contains 25 different compounds, including lead, arsenic and mercury. Liquid mercury from the smelter also went directly into the river; more pollutants came out of its smokestack.
"I think there is a connection," said Sowards, who has ulcerative colitis and multiple sclerosis. "It's just a personal feeling – you have no proof. But when so many of my siblings and friends have the same diseases, there seems to be a link."
Residents of Northport, a community of 330 near the Canadian border, have long wondered how Teck's smelter affects their health and the health of the river. Citizens for a Clean Columbia, a 70-member activist group, points to clusters of ulcerative colitis and other autoimmune diseases as indicators of problems.
For decades, Teck Resources characterized the slag as inert and benign. "Our position now is that we're not certain," said David Godlewski, a vice president for Teck American in Spokane, the company's U.S. subsidiary.
New studies, paid for by Teck, begin this summer. They aren't likely to give Sowards definitive answers, but they will assess the ongoing risk from contaminants.
The Environmental Protection Agency will investigate whether pollution in the Upper Columbia threatens people and wildlife. The investigation includes testing beaches, sampling fish tissue and looking at how pollutants could be inhaled, absorbed through the skin or ingested with food or water.
The work goes beyond a 2005 study, which tested 15 beaches and found they were safe for recreational use of up to two weeks per year. Human health modeling in the upcoming studies will look at three populations' exposure to pollution: people living in communities along the river; members of the Confederated Tribes of the Colville Reservation, which borders the river; and people who swim, fish and boat on the Upper Columbia, including Lake Roosevelt National Recreation Area.
The research will take seven to nine years to complete, said Helen Bottcher, EPA project manager. If early results indicate serious risks to people or the environment, the EPA could consider cleanup actions before the investigation is finished, she said.
Teck Resources – formerly known as Teck Cominco – stopped discharging slag into the river in 1995. Four years later, the Confederated Tribes of the Colville Reservation petitioned the EPA to conduct an assessment of pollution in the Upper Columbia under the federal Superfund program. In 2006, the EPA reached an agreement with Teck Resources to study the heavy metals contamination.
The studies will take time, said Teck's Godlewski. "But in the end, they will have the answers to the questions that people have the right to know," he said.
Health questions trouble community
Questions about the smelter's legacy haunt Sowards and her mother, 76-year-old Rosemarie Phillips. Phillips and her husband, Glenn, raised seven children on a 2,400-acre cattle ranch near Northport. They all swam in the river.
Rosemarie Phillips shies away from linking illnesses to the smelter. But like her daughter, she ponders the high rates of autoimmune disease in her family.
"I have two daughters with MS," Phillips said. One of her sons has Crohn's disease, an inflammatory bowel condition. Her grandson – Sowards' nephew – was recently diagnosed with ulcerative colitis.
"He's 10, and he doesn't understand why he can't have a hot dog like the other kids," Phillips said. The boy's sister has rheumatoid arthritis. Phillips, who also swam in the river, is healthy. So is her husband. But she wonders if exposure to environmental toxins during their growing-up years in Northport compromised their children's and grandchildren's health.
Rose Kalamarides, 53, spent her childhood on a nearby farm, and she swam in the river with the Phillips kids. Kalamarides, who now lives in Alaska, lost her colon to ulcerative colitis at age 28. Her brother also had his colon removed. The children on two neighboring farms also had bowel disease.
Ulcerative colitis has a hereditary component, but Kalamarides thinks it's too much of a coincidence that four unrelated families had kids with the same health problems. "There's no common link, other than we lived in the same area," she said.
Earlier studies inconclusive
Earlier studies haven't linked the smelter to disease. In the early 1990s, the Washington Department of Health found significantly higher rates of hospitalization for inflammatory bowel disease in Stevens County and adjacent counties compared with the rest of the state. State health officials tried to interest outside researchers in studying possible environmental links, but the area's population was deemed too small for a study.
Neither ulcerative colitis nor Crohn's disease has a known cause, which is part of the difficulty, said Dave McBride, a state toxicologist.
The federal Agency for Toxic Substances and Disease Registry prepared a public health assessment of Northport in the late 1990s. At the time, the studies generally found that contamination didn't reach levels known to cause health problems.
The inconclusiveness frustrates Clifford Ward, a member of Citizens for a Clean Columbia. His neighbor's daughter was diagnosed with ulcerative colitis as a teen. He said a previous family who lived on the property also had a son with ulcerative colitis. As a matter of geography, Northport got the brunt of historic pollution releases, Ward said.
"All of this stuff is hard to trace down and say where it came from. What we'd like to see is an epidemiology study by an independent firm," he said.
Dr. Mindy Smith, a physician who lives near Trail, edits medical books for Michigan State University. She recently wrote the chapter on ulcerative colitis for a family medical text.
Both ulcerative colitis and Crohn's disease are relatively rare, Smith said. Statistically, about 400 cases of bowel disease are diagnosed for every 100,000 people. So it's odd, she said, that little Northport would have a cluster of cases.
Current theories suggest that ulcerative colitis may be caused by the body's overzealous response to normal gut bacteria, Smith said. "To my way of thinking, it could be affected by chemicals," she said.
Epidemiology studies aren't part of the upcoming investigation, said Marc Stifelman, an EPA toxicologist. The studies won't track rates of disease in the local population. And they won't dig into the past to estimate how much pollution older residents were exposed to before the smelter was rebuilt with tighter controls.
The studies will provide a snapshot of current conditions, Stifelman said.
"We're interested in current exposures and future exposures," he said. "We're asking 'Is there a problem now?' and 'Will there be a problem in the future?' "
In Northport, beekeeper Matt Wolohan has already made up his mind about potential risks. After he and his wife moved to the area in 1982, he often swam at Black Sand Beach, which is two miles south of the Canadian border. The gentle current made it an ideal swimming spot, but Wolohan no longer indulges.
Ten years ago, he lost his right eye to ocular melanoma, a cancer so rare its incident rate is about seven cases per 1 million people. Wolohan said he's since learned of five other people on both sides of the border with the same cancer.
"I'm reluctant to say that pollution in the river caused it," Wolohan said. Black Sand Beach was one of the 15 tested earlier by EPA, which found only slightly elevated metals levels.
But Wolohan can't dismiss the coincidence of five other people with a rare cancer. And he remains angry at what he considers Teck Resources' cavalier treatment of downstream communities.
Until 1995, "Teck was dumping 400 tons of raw slag into the river every day and telling us that it was fine – that it was like sand," Wolohan said. "It was like flushing the toilet. … Eight miles, and it was out of the country."
Local journalism is essential.
Give directly to The Spokesman-Review's Northwest Passages community forums series -- which helps to offset the costs of several reporter and editor positions at the newspaper -- by using the easy options below. Gifts processed in this system are not tax deductible, but are predominately used to help meet the local financial requirements needed to receive national matching-grant funds.
Subscribe now to get breaking news alerts in your email inbox
Get breaking news delivered to your inbox as it happens.
---