Sports
Colton climbs to title
Wildcats nip SJE for first championship
Sun., March 1, 2009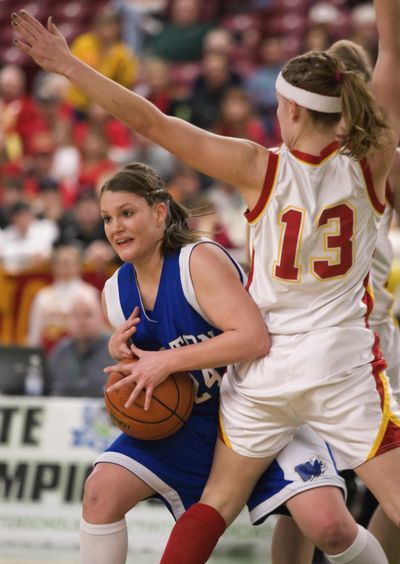 YAKIMA – Finally and literally, at 8:42 p.m. Saturday, the Colton Wildcats were standing on the top rung of the State 1B girls basketball ladder.
After finishing third in 2007, second in 2008 and holding off a determined St. John-Endicott squad 48-45 in the 2009 championship game, the Wildcats finally got to cut down the nets at the SunDome and take home their first state championship trophy.
The win completed a four-game sweep of SJE (19-5) for Colton (24-0). The teams met in the District 9 championship game last week.
The game was exactly what both coaches thought it would be with familiar opponents – a street fight with polite, pony-tailed teenage girls going toe to toe for 32 minutes.
"The fourth time you play someone, there are no secrets," Colton coach Clark Vining said.
Mollie Kramer's play off the bench was the difference. After struggling with foul trouble in the first three games, the sophomore forward came off the bench to score 10 points and grab six rebounds.
Kelsey Moser, the tournament MVP, scored 24 points, 18 in the second half, and pulled down seven rebounds.
"Kramer hurt us tonight," SJE coach Bob Clements said. "We knew Moser would get her points, but Kramer hadn't scored on us all year. We didn't expect that out of her."
Sunnyside Christian 42, St. Michael's 23: The Warriors ran out of gas and were never in the game for third and sixth places.
Sunnyside Christian led 12-2 after one quarter and 22-6 at halftime.
St. Michael's (12-15) brings home a trophy in its first state tournament appearance. The impact on the small St. Michael's community – nearly all of whom were in Yakima – has been huge.
"Because of this, people realize that a small school can make it to state," coach Amy Vogel said. "Our junior high kids are already talking about summer ball. They're making announcements at church and having a big party for us when we get home"
The trip to state closes out a seven-year run for Vogel and seniors Katie Urann, Jessica Vila, Tina Raynor, Katie Drass and Tori South.
As a college student, Vogel – then known as Amy Urann – began coaching a group of fifth-graders as an after-school job. She was the varsity assistant when they were freshman and took the program over the next season.
Almira/Coulee-Hartline 39, Neah Bay 30: The Warriors captured their ninth state tournament trophy, holding off the Red Devils in the game for fifth and eighth places.
ACH's fifth-place finish was the second in school history. Neah Bay (21-3) earned its second trophy.
The Warriors (24-2) led the entire second half, although Neah Bay trimmed ACH's lead to 22-21 with 1:15 left in the third quarter. But ACH'S 7-1 run, capped by Madeline Isaak's 3-pointer to open the fourth quarter extended the cushion and the Red Devils couldn't recover.
Megan Osborne grabbed 11 rebounds and Nikki Osborne added nine as ACH outrebounded Neah Bay 45-38.
Lummi 43, Columbia 35: The Blackhawks' 13-0 second-quarter run broke open a tie and propelled Lummi to its best state tournament finish in the game for fourth and seventh places.
Columbia (21-6), won its fourth trophy in four trips to state. It was the Lions' first state trip since 1988,
Amanda Humphreys made a pair of 3-pointers during the second-quarter run that snapped a 14-all tie and put the Blackhawks ahead for good.
Krista Colvin led Columbia with 12 points, Rikkole Edwards added 10.
Local journalism is essential.
Give directly to The Spokesman-Review's Northwest Passages community forums series -- which helps to offset the costs of several reporter and editor positions at the newspaper -- by using the easy options below. Gifts processed in this system are not tax deductible, but are predominately used to help meet the local financial requirements needed to receive national matching-grant funds.
Subscribe to the sports newsletter
Get the day's top sports headlines and breaking news delivered to your inbox by subscribing here.
---