News > Features
Gretchen loves to play molls from the past
Sun., March 1, 2009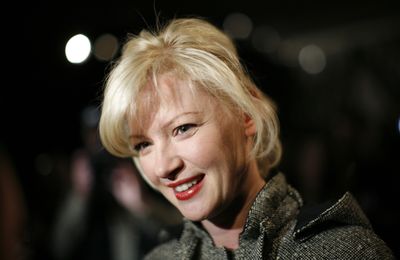 Gretchen Mol has been spending a lot of time in the past lately.
Her role in the new television police drama "Life on Mars" pushes her back to 1973. And her latest film, "An American Affair," stretches back even further, to 1963.
In truth, she says, the past is where she has spent "most of my career." "I mostly do period films," she adds. "I'm not sure exactly why."
Surely it has something to do with her look, a melding of cherubic innocence and pinup-style seductiveness. That let her slip believably into a Marilyn Monroe-inspired Kennedy paramour for the Cold War-era "American Affair."
And if yesterday is the territory to which she has been relegated, well, Mol can live with that.
"You have so much more information with a little distance," the 36-year-old actress explains. "You get all the stuff that's going on socially at the time, and you can use that to explore who your character might be."
Mol plays a tormented woman caught between her Kennedy entanglements and the tightening screws of her ex-husband's CIA enforcers, plumbing her incessantly for information on the president. Witness to it all is a Catholic schoolboy who lives next door and has less than angelic designs on his glamorous neighbor.
"I sort of loved that she was in over her head in this world and that she was able to find some kind of pure relationship with this young boy – that she could kind of be her purest self with him," Mol says. "But even that had a sort of tainted quality to it, because his own agenda got in the way."
Mol auditioned and was offered the role but then found herself with a conflict when filming for "3:10 to Yuma," the Russell Crowe western in which she had a small part, was scheduled for the same weeks as "American Affair."
"I had to beg them to work out the schedule," she recalls. "It's so hard to find good roles, and they get snatched up by a few great actresses."
Despite her fame and 13 years in the business, Mol is not so overwhelmed with choice offers that she walks away easily from any chance to work. In 1998 Vanity Fair put her on its cover and dubbed Mol Hollywood's new "It Girl."
Mol landed significant roles in films such as "Rounders," "The Shape of Things" and "The Notorious Bettie Page" but also went through long periods where the work wasn't as abundant.
"What I always love about this business is just when you think you're hanging on by your fingernails something comes up," she says. "The plan I would always have is longevity – which means not being afraid to take a job which wasn't on your game plan or wasn't your dream situation, but you have to keep working. And if you do good work, you'll be okay."
The birthday bunch
Actor Robert Clary is 83. Singer Harry Belafonte is 82. Actor Robert Conrad is 74. Singer Mike D'Abo of Manfred Mann is 65. Singer Roger Daltrey is 65. Actor Alan Thicke is 62. Actor-director Ron Howard is 55. Actress Catherine Bach is 55. Actor Tim Daly is 53. Keyboardist Jon Carroll (Starland Vocal Band) is 52. Actor George Eads is 42. Actor Javier Bardem is 40. Actor Mark-Paul Gosselaar is 35.
Local journalism is essential.
Give directly to The Spokesman-Review's Northwest Passages community forums series -- which helps to offset the costs of several reporter and editor positions at the newspaper -- by using the easy options below. Gifts processed in this system are not tax deductible, but are predominately used to help meet the local financial requirements needed to receive national matching-grant funds.
Subscribe to the Coronavirus newsletter
Get the day's latest Coronavirus news delivered to your inbox by subscribing to our newsletter.
---