News > Features
Same-sex couples wait for less-limited partnerships
For same-sex couples in Washington state, these are anxious times as they await word on whether they've been granted equal status
Sun., March 1, 2009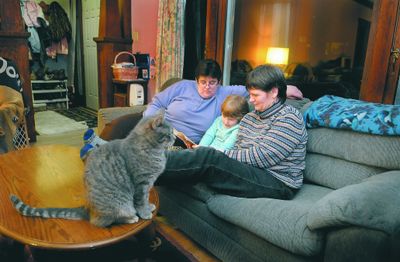 Like most parents, Kyla Bates and Lori Rodriguez know all about the joys and frustrations of raising kids. They've been through pregnancy and childbirth. They've spent many sleepless nights caring for a sick child. They've grown accustomed to the routines of day-to-day life – getting ready for school, helping with homework, playing at the park, reading bedtime stories.
Together, they envision a future full of hope and happiness for their 7-year-old daughter, Myah.
But unlike most parents, Bates and Rodriguez don't necessarily have the same rights.
When Myah was hurt in a car accident five years ago (in which Rodriguez also was injured), hospital staff wouldn't allow Bates to make decisions on her behalf. Because she couldn't provide written proof that she, too, was Myah's mom, they made her sit in the waiting room instead of allowing her to comfort her daughter.
"That was a huge wake-up call for us," said Bates. "It made me realize that I need to always carry documentation so that I can be recognized as a parent. …
"It was scary for me having my family be injured, which was only exacerbated by being unable to prove that I was the one that could make decisions for both of them."
The fact that they're not both always recognized as parents has become a source of pain and frustration for Rodriguez and Bates, a Spokane couple who have been together for more than two decades.
They're not alone. Estimates from the American Civil Liberties Union and other organizations show that the number of children nationwide living with at least one gay parent ranges from 6 million to 14 million.
A growing number of gay and lesbian couples also are turning to adoption, foster care and artificial insemination as they seek to start their own families.
Unlike previous decades, gay dads and lesbian moms feel more comfortable about being "out" in the community. They volunteer at school, chaperone dances and field trips, coach their children's Little League teams.
But some say they still don't have the same status as heterosexual couples with kids. Too often, one parent is left unrecognized. Or the family becomes ostracized in certain circles.
When Rodriguez was pregnant, Bates went through the steps to legally adopt Myah. After undergoing a criminal background check, getting their home inspected and spending about $2,000 in fees, Bates was able to get her name on their daughter's birth certificate.
She and Rodriguez also registered as domestic partners two years ago after lawmakers in Olympia approved a registry and granted couples basic rights that included the ability to visit each other in the hospital and make health care decisions on behalf of their partners.
Now, Washington legislators are considering broadening the rights of domestic partners to include pension benefits, estate taxes and other privileges that heterosexual couples and their children already have.
"My daughter only knows two parents, her Mama and her Mommy," Bates said during a press conference when the legislation was introduced in January. "She has no idea that legally we don't have the same rights as other parents.
"If something were to happen to either one of her parents, financially we don't have the same rights to inherit benefits as other families. We cannot take care of our family's long-term financial health in the same way as other families simply because we are the same sex."
The family's need for the new legislation has become even more critical now that Myah has been diagnosed with Wilm's tumor, a cancer of the kidney.
Although the medical professionals and others who have worked with Myah during the past year have never questioned Bates' role or the fact that they're a same-sex couple, both mothers continue to worry that their family might still encounter discrimination and intolerance as they seek treatment for their child.
For the most part, people have been open and accepting, said Bates. She and Rodriguez have been able to create a close-knit community that includes other gay and lesbian families so that Myah is exposed to diversity.
When Myah was born on Sept. 1 – a birthday she shares with Bates – it felt like a family celebration, recalled both mothers.
After Rodriguez went into labor a week past her due date, she and Bates were accompanied to the hospital by relatives and close family friends who all awaited the birth.
"We feel blessed to be in Spokane," said Bates, who moved to the area 20 years ago from Tennessee. "We have been able to create an environment that's healthy and happy for all of us."
Bates and Rodriguez aren't naïve enough to think that their family will always be welcomed by others. Yet at the same time, they don't want Myah to be fearful or to think that they're different in any way.
"She just assumes everybody accepts us as we are," said Bates. "She has a variety of friends with mixed families so she's just like everybody else."
When Myah was little and her friends at day care asked about her family, Bates and Rodriguez brought in a copy of the picture book, "Heather Has Two Mommies." Before long, other kids started telling her how lucky she was to have two moms, Bates said.
At Balboa Elementary, where Myah is a second-grader in the Montessori program, the Bates-Rodriguez family feels right at home.
In the broader community, "we sometimes get questions and run into people who don't have the mindset that it's possible for both of us to be her parents," said Rodriguez, 47. "But the majority of the time, it's not a big deal."
Bates, who's 53, says society has come a long way in terms of accepting members of the gay, lesbian, bisexual, transgendered and questioning community. But there's still work to be done, she said, especially when it comes to protecting the rights of families like her own.
Since Myah was diagnosed with cancer, the little girl has undergone surgery to get her kidney removed. She also has endured long hospital stays, chemotherapy and other illnesses including pancreatitis.
Because of their daughter's fragile condition, Rodriguez and Bates never travel too far from home. And when they have to, Bates always brings along Myah's birth certificate.
As they juggle two full-time jobs while caring for a child with cancer, their hope is that others will accept their family and recognize their roles as parents.
"We are a typical Northwest family in many ways," Bates said during the press conference. "We have played in Hoopfest, cheered on the Bloomsday runners and ran the event.
"We've gone to First Night and ate many meals at Pig Out. We support our daughter's school activities by volunteering and participating in fundraisers. …
"Our lives are no different than everyone else's – we get up, go to work and take our kid to school," she later said during an interview.
"We're just like any other family – we share the same issues of how to best raise our child. … It's just complicated by the rules and legalities in society."
Virginia de Leon is a Spokane-based freelance writer. Reach her at
virginia_de_leon@yahoo.com
. You can also comment on this story and other topics pertaining to parenting and families by checking out The Spokesman-Review's parents blog, "Are We There Yet?" at
www.spokesman.com/blogs
/parents.
Local journalism is essential.
Give directly to The Spokesman-Review's Northwest Passages community forums series -- which helps to offset the costs of several reporter and editor positions at the newspaper -- by using the easy options below. Gifts processed in this system are not tax deductible, but are predominately used to help meet the local financial requirements needed to receive national matching-grant funds.
Subscribe to the Coronavirus newsletter
Get the day's latest Coronavirus news delivered to your inbox by subscribing to our newsletter.
---