Sports
Lopez leads Jaguars to title
Sun., March 1, 2009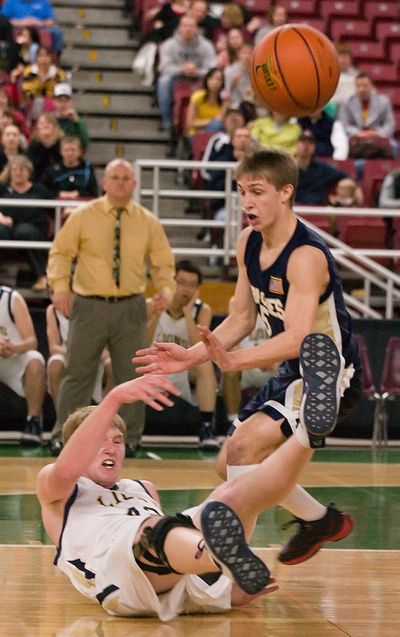 YAKIMA – Sergio Lopez picked the right night to stand out on a Tri-Cities Prep squad that defines team.
The 5-foot-10 senior scored 13 points and provided a steadying influence as the Jaguars (21-6) defeated top-ranked Moses Lake Christian 48-41 Saturday to win the State 1B boys basketball championship at the SunDome.
Moses Lake Christian's season ended at 23-3, with a runner-up trophy to go with the third-place finish the Lions earned in 2008.
Lopez was named tournament MVP.
The Jaguars' offensive effort was balanced as usual. Andrew LeBrun had 12 points, Will Hoppes added nine and Ryan Mercado had eight.
MLC guard Adrian Moffet, one night after he scored a tournament game-record 34 points, was held to five points on 1-of-7 shooting in the first half with three turnovers. He finished with 13 points.
The Lions' other big scorer, Riggs Yarbro, scored 20 points and pulled down 16 rebounds. Yarbro was held in check in the second half, scoring six points.
Almira/Coulee-Hartline 59-Cusick 46: The Warriors captured their first trophy since placing fourth in 1997 – and their second-best placing – behind the play of Cody Jess, Garrett Jess and Derek Isaak.
Cody Jess scored 19 points, Garrett Jess had 14 and 12 rebounds and Isaak added 10 points as ACH beat the Panthers for the second time in eight days. The teams played in the District 7 championship with ACH hitting a buzzer-beater to snare the No. 1 seed.
ACH (22-5) surged to a 16-9 lead in the first period and never trailed. The Warriors' biggest lead was 15 points (59-44). The Panthers were 10 of 31 in the first half (32 percent) while the Warriors were 14 of 29, including four 3-pointers.
Cusick (20-7) was led by Tyler Edwards with 12 points and Spencer Shanholtzer with 10.
"That's the third time I've coached in the third-sixth game and I like the way this turned out," ACH coach Scott Isaak said. "I'm really happy for our kids. They bounced back well."
Not only did they bounce back, but they bounced out of their hotel beds early – 7:30 a.m. – to watch the ACH girls play in their game for fifth and eighth. After a mandatory 21/2-hour sleep session, the Warriors were ready to take care of business.
"They just had a little more of a little more," Cusick coach J.R. Bluff said. "They have a good team and a good coaching staff, just like we do. They made shots early when we couldn't."
Rosalia 54, Lake Quinault 54: The Spartans (19-7) captured their first state trophy since 1981 behind their 1-2 punch of Nathan Richards and Jim Maley.
Richards scored 17 points, 11 in the second half, and Maley added 16 points and 13 rebounds – his fourth double-double in the tournament.
Rosalia cracked open a four-point contest with a 17-6 third-quarter run that opened up a 15-point lead. Lake Quinault couldn't get closer than eight the rest of the way.
Rosalia hit 53.7 percent of its shots (22 of 41) from the field, while the Elks converted 31.3 percent (15 of 48). Richards was 8 of 11 from the floor and Maley 7 of 11.
Local journalism is essential.
Give directly to The Spokesman-Review's Northwest Passages community forums series -- which helps to offset the costs of several reporter and editor positions at the newspaper -- by using the easy options below. Gifts processed in this system are not tax deductible, but are predominately used to help meet the local financial requirements needed to receive national matching-grant funds.
Subscribe to the sports newsletter
Get the day's top sports headlines and breaking news delivered to your inbox by subscribing here.
---