Sports > Outdoors
Out & About
Sun., March 1, 2009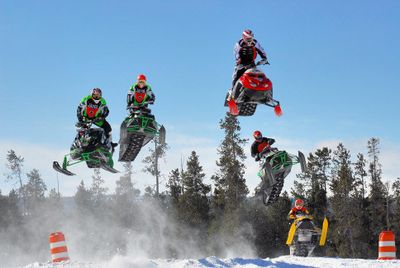 OUTROAR
Snowmobile Expo at Yellowstone
The West Yellowstone World Snowmobile Expo, March 13-15, has grown over 19 years to become the largest snowmobile event in the West, with manufacturers unveiling their 2010 lines while freestyle sledders flip through the sky in exhibitions.
Other features include the Toughman Enduro Race, plus snowcross, drag and ATV racing events, the Western States Vintage Snowmobile Association displays and demos and Yellowstone Park tours.
Info: (406) 646-7701, www.destination yellowstone.com.
OUTMEDIA
New resource for Idaho trail
Hiking, biking, horseback riding and riding a motorcycle or ATV on the Idaho Centennial Trail should be easier to plan with the help of a new Web site and blog maintained by the Idaho Department of Parks and Recreation.
The 900-mile Idaho Centennial Trail, conceived in 1990, is a combination of trails and routes that winds the length of Idaho from Murphy Hot Springs on the Idaho-Nevada border to the Upper Priest River on the Idaho-British Columbia border.
Web site: www.parksand recreation.idaho.gov.
Blog: http://idaho centennialtrail.blogspot.com.
OUTSMART
Marauding macks may fall to Jell-O
A Montana State University researcher says Jell-O, ultrasound, microwaves and electroshocking are among the possible solutions to eliminate lake trout in Yellowstone National Park.
Lake trout were introduced illegally into the park and threaten native cutthroat trout in Yellowstone Lake. Al Zale of the Montana Cooperative Fishery Research Unit is searching for the best way to destroy lake trout eggs.
Jell-O – probably unflavored – could possibly be spread over the fish eggs to smother them.
No, those might not be berries in your gelatin salad.
OUTLOOK
Best fishing times
Lunar tables from the U.S. Naval Observatory. Be fishing at least one hour before and one hour after peak times. Applies to all time zones. (* indicates best days.)
Through March 8
Today
4:25 p.m., 4:55 a.m.
Monday
5:15 p.m., 5:30 a.m.
* Tuesday
5:45 p.m., 6:15 a.m.
* Wednesday
6:45 p.m. —
Thursday
7:50 a.m., 8:20 a.m.
Friday
8:50 p.m., 9:15 a.m.
Saturday
9:45 p.m., 10:15 a.m.
Next Sunday
10:40 p.m., 11:05 a.m.
See the Hunting-Fishing Report every Friday in Sports
Local journalism is essential.
Give directly to The Spokesman-Review's Northwest Passages community forums series -- which helps to offset the costs of several reporter and editor positions at the newspaper -- by using the easy options below. Gifts processed in this system are not tax deductible, but are predominately used to help meet the local financial requirements needed to receive national matching-grant funds.
Subscribe to the sports newsletter
Get the day's top sports headlines and breaking news delivered to your inbox by subscribing here.
---