News > Features
Miley smacks Jonas Brothers
Wed., March 4, 2009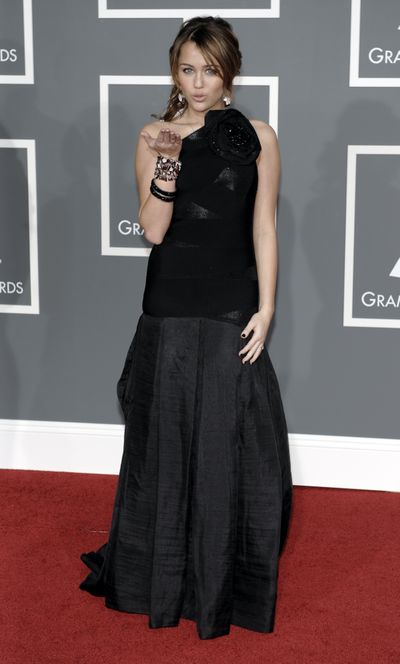 The Jonas Brothers were good-little-boy hawkers for their signature film, "Jonas Brothers: The 3-D Concert Experience," which opened Friday.
Their appearance at the Palisades Center in West Nyack, N.Y., on Saturday is a good example. The brothers – Joe, Kevin and Nick Jonas – grew up in nearby Wyckoff, N.J.
So it was a homecoming of sorts, a fact that Nick Jonas referred to at a news conference when he recalled that the three brothers often saw movies at the mall.
"So the fact that we're coming back here," Nick said, "is really, really, really cool."
Not so really, really, really cool was the fact that the brothers' film did worse than expected at the box office over the weekend, pulling in just $12.7 million. It finished behind Tyler Perry's "Madea Goes to Jail" ($16.5), which finished No. 1 for the second straight week.
Even worse, the Jonas Brothers' film finished behind 2008's "Hannah Montana & Miley Cyrus: Best of Both Worlds Concert," which opened to $31.1 million a year ago.
That film, also screened in 3-D, starred fellow Disney idol Miley Cyrus and opened at No. 1 while playing in just 683 theaters.
"Jonas Brothers" opened in 1,271 theaters.
They might just squeeze by
When you're rich, what's a $40,000 bill? Especially when, as producer Russell Simmons says, the money goes – monthly – to support your two daughters.
A court order issued on Thursday finalized custodial and financial arrangements for 9-year-old Ming and 6-year-old Aoki, Simmons' children with ex-wife Kimora Lee Simmons. Simmons' ex gets sole custody, and he's obligated to pay the monthly support bill until the girls are 191/2 years old.
Not much play in the boy
How much rejection can an 82-year-old man take? Seems Playboy magnate Hugh Hefner offered to give away his former flame, Kendra Wilkinson, 23, during her forthcoming wedding to Philadelphia Eagles wide received Hank Baskett, 26. But the reality star declined, saying she'd prefer that her brother do the job.
Stupidity still a TV fashion
Fans of Matt Groening's creation, "The Simpsons," will be glad to know that the show has been renewed for two more years.
What this means is that the animated show, which is in its 20th year, will become the longest-running prime-time series in history. The Fox show is now tied for No. 1 with the classic Western series "Gunsmoke."
Their tights budget was taut
Expect to be inundated all this week by TV ads for Zack Snyder's film "Watchmen," which opens across the country on Friday. "Watchmen," of course, has special needs: Snyder's adaptation of the Alan Moore/Dave Gibbons graphic novel is said to have a production budget in excess of $100 million.
The birthday bunch
Singer Bobby Womack is 65. Bassist Chris Squire of Yes is 61. Actor-singer Ronn Moss of Player is 57. Actress Kay Lenz is 56. Percussionist Emilio Estefan of the Miami Sound Machine is 56. Actress Catherine O'Hara is 55. Actress Patricia Heaton is 51. Actor Steven Weber is 48. Bassist Jason Newsted (Metallica) is 46. Singer Evan Dando of The Lemonheads is 42. Actress Patsy Kensit is 41.
Local journalism is essential.
Give directly to The Spokesman-Review's Northwest Passages community forums series -- which helps to offset the costs of several reporter and editor positions at the newspaper -- by using the easy options below. Gifts processed in this system are not tax deductible, but are predominately used to help meet the local financial requirements needed to receive national matching-grant funds.
Subscribe to the Coronavirus newsletter
Get the day's latest Coronavirus news delivered to your inbox by subscribing to our newsletter.
---